The British & Irish Lions
Euan Murray's BBQ mishap
Scoland head coach isn't sure if prop Euan Murray will be fit enough to take part in the 6 Nations. Murray injured his thumb chopping wood at a barbecue.
Planet Rugby Union Photos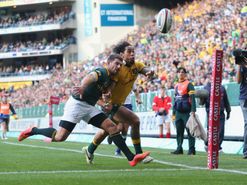 Gallery: South Africa 28 Australia 10
We look back at some of the best images from the Springboks' bonus-point triumph at Newlands.
Photo galleries home