The British & Irish Lions
Bright future
An agreement for a new tournament to replace the existing European Cup structure has been signed by the various rugby union governing bodies in Europe.
Planet Rugby Union Photos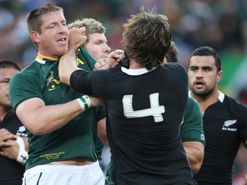 Picture tribute: Bakkies Botha
After announcing his retirement from international rugby, we look back at the successful - if at times colourful - career of Bakkies Botha. Maybe there's more trophies to come with Toulon in the future?
Photo galleries home