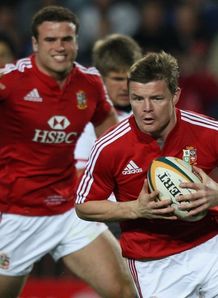 Related links
Also see
The British and Irish Lions got their tour going in emphatic style on Wednesday, crushing an ordinary Golden Lions outfit 74-10 with an overpowering display.
We had seen shades of it on Saturday in Rustenburg, but that had been against a tired team at the end of a match. This was against a better quality team and from the off. Poor as the locals were in front of another disappointing crowd, the Lions looked focussed, fit and, most importantly of all, they looked as though they were singing from the same songsheet.
Second-half substitutions slightly spoiled the rhythm, particularly when James Hook had to come on for the magnificent Jamie Roberts and when Mike Phillips ended up at centre, but Ian McGeechan and company could afford themselves a luxury or two with a forty-point lead - even ending the game up with scrum-half Mike Phillips and wing Tommy Bowe as the centre combination and fourteen men on the pitch.
Bar Tom Croft's effort in the later part of the first half, all of the eight tries came from the backs, many of them built on several phases of play. Even Croft's came from a burst through the outside centre channel. They wanted not just a win, but a controlled clinical win. They got it. It was the biggest Lions win in South Africa since 1974 - and we all know what happened then.
Dare British and Irish fans read that much into it? Surely to some extent. This was a performance of Test intensity from a starting XV that bore a Test quality hallmark. Jamie Roberts and Brian O'Driscoll must be the Test centre partnership - unless the latter's injury curse strikes. Mike Phillips was superb at scrum-half, supplying all the necessary bite and speed.
The forwards operated as tight as could have been wished for, with the front row unforgiving, the locks getting stuck in and taking nearly all the line-out ball and the back-row plugging the gaps that had been left open on Saturday. In defence generally the tourists just strung themselves across the field and shut off the space with superb organisational speed.
The Golden Lions could find no change except one poor piece of decision-making by Tommy Bowe late in the first half, a gentle reminder that this was not quite perfection. A less gentle reminder might come from Shaun Edwards, whose temper visibly cracked as his side was driven back over its own line at a late ruck. Even with a 60-point lead, more could have been done.
The flow began almost immediately. From minutes two to five the tourists strung together 14 phases of play. Not for too much gain, but just the continuity was admirable and bode well.
The first scrum for the Golden Lions was obliterated by Gethin Jenkins and Phil Vickery, yielding a penalty. From the line-out, the tourists again strung phase after phase together with menacing picks and goes, before O'Drsicoll stepped inside and offloaded to Roberts for the opener after seven minutes.
Three minutes later, Bowe came off his wing - a featured tactic of the tourists all game - to break the line and fed O'Driscoll inside for the second.
Stephen Jones and Andre Pretorius exchanged penalties, Jones getting his after the tourists had forced the Gautengers' scrum to its knees. Jones notched a further one after another series of picks and goes pressured Cobus Grobelaar in at the side, then a terrific loop move and switch with Kearney and Bowe freed up Ugo Monye on the outside for the third.
Croft burst through for the fourth after a midfield turnover, but just before the break, the hosts got their consolation score, with Bowe rushing up in defence when outnumbered and leaving Monye exposed - Shandre Frolick had a clear run-in.
The tourists struck right back, with Roberts scoring a simple try after more multi-phase build-up down the left.
The second half was one-way traffic. Jones and O'Drsicoll combined on a loop, then on the next phase Jones drew his man expertly and Bowe finished off.
Bowe got his second on the hour-mark, with an intercept after a thumping tackle by Croft. Monye took an inside ball - off his wing again - from Hook to score the seventh. Hook intercepted a pass showing just how flat the Gautengers had come in attack for a try of his own, then in the final minute Stephen Ferris, the man who strained a calf muscle getting off a bus, picked up a ball spilled at a ruck, and hared clear in glorious fashion for the tenth. A rout. The tourists are here.
Man of the match: Five line breaks, two tries, and a fair few meaty tackles. All that in just fifty minutes, in his second match in five days. Well done Jamie Roberts!
The scorers:
For the Golden Lions:
Try: Frolick
Con: Pretorius
Pen: Pretorius
For the B&I Lions:
Tries: Roberts 2, O'Driscoll, Monye 2, Croft, Bowe 2, Hook, Ferris
Cons: S. Jones 6, Hook 3
Pens: S. Jones 2
Golden Lions: 15 Louis Ludik, 14 Michael Killian, 13 Jannie Boshoff, 12 Doppies la Grange, 11 Dusty Noble, 10 André Pretorius, 9 Jano Vermaak, 8 Willem Alberts, 7 Franco van der Merwe, 6 Cobus Grobbelaar (captain), 5 Willem Stoltz, 4 Brad Mockford, 3 Gert Muller, 2 Willie Wepener, 1 Lawrence Sephaka.
Replacements: 16 Ethienne Reyneke, 17 JC Janse van Rensburg, 18 Ernst Joubert, 19 Todd Clever, 20 Chris Jonck, 21 Walter Venter, 22 Earl Rose.
British & Irish Lions: 15 Rob Kearney, 14 Tommy Bowe, 13 Brian O'Driscoll, 12 Jamie Roberts, 11 Ugo Monye, 10 Stephen Jones, 9 Mike Phillips, 8 Jamie Heaslip, 7 David Wallace, 6 Tom Croft, 5 Alun-Wyn Jones, 4 Nathan Hines, 3 Phil Vickery, 2 Lee Mears, 1 Gethin Jenkins.
Replacements: 16 Ross Ford, 17 Euan Murray, 18 Stephen Ferris, 19 Andy Powell, 20 Harry Ellis, 21 James Hook, 22 Shane Williams.
Referee: Craig Joubert
Assistant referees: Wayne Barnes, Marius Jonker
TMO: Johann Meuwesen