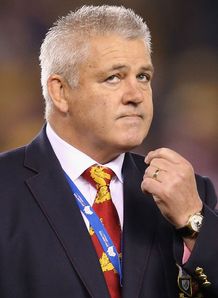 Related links
Also see
Warren Gatland has queried whether a quota system should be installed for the next British and Irish Lions tour to New Zealand.
Gatland lead the Lions to a 2-1 series win over Australia earlier this year, but received criticism for some of his selections.
Only three Scottish players - Richie Gray, Stuart Hogg and Sean Maitland - were selected in the 37-man squad.
Ahead of the next tour to New Zealand, Gatland has suggested that Lions supporters should have a say in whether a certain number of players should be selected from each country.
"I think something the Lions should instigate is a public debate about whether the Lions need a quota system," Gatland told the Telegraph.
"It's worth debating and I think we should start it off. Do we need a minimum number of players from a country in the squad and then, when we are picking a Test side, does there need to be a minimum of one or two [from each country] in the starting XV?
"I think I know what the answer will be with that, but, if we don't raise it and debate it to get a consensus, then potentially we are going to end up with what we had recently on this tour."
Gatland also admitted that some of the criticisms over his selections stung him during the tour, including suggestions that he was anti-Irish or overly pro-Welsh.
"That personal stuff got to me," added Gatland.
"I go back to the 1993 Lions tour to New Zealand and I think there were 11 Englishmen that started the third Test in Auckland, but there wasn't the controversy with that."