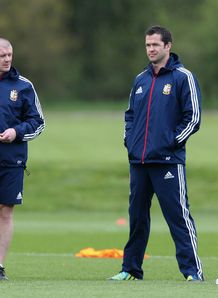 British and Irish Lions coach Warren Gatland admits learning about his World Cup opponents was key to his taking Andy Farrell on tour.
Welsh coach Gatland raised a few eyebrows when he opted to bring Farrell, a member of England's coaching team, Down Under rather than his Wales assistant Shaun Edwards.
But the Kiwi revealed on Thursday that gaining a better understanding of 2015 World Cup rivals England's match preparation did play a part in his decision.
"I made [the decision], a little bit selfishly, it was a chance for me to bring in someone who I hadn't worked with in the past, in terms of Andy Farrell, who was well regarded by anyone who I spoke to," Gatland told the Western Mail.
"It doesn't take away from the respect I have for Shaun as a coach, but it was good from that aspect to work with somebody else. I have a huge amount of respect and regard for Shaun.
"There was, I suppose, a part of me looking long term - knowing that Andy could do a good job - but also, if you are thinking you know what the World Cup pool is and knowing that we were going to have England in our pool, potentially it gives me a little bit of an insight into England and their preparations.
"That's a little bit of the cutting side of me. You don't admit those things and that's probably more of a reflective decision, saying what happens afterwards.
"There was no doubt that by us going on the Lions, we have given away, from a coaching set up and backroom staff, a huge amount of information, so it's always nice to get something back as well.
"It was tough, but the thing about Shaun is that he has been a professional sportsman since he was 17 and at times, although he doesn't always agree, he respects that decisions need to be made.
"He texted me whilst I was on tour and wished me good luck and we have met up a few times since. I am confident that that relationship will continue to flourish."