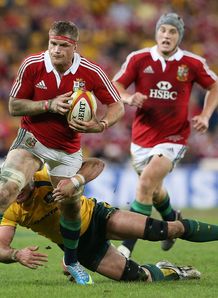 Related links
Also see
Jamie Heaslip said he was "p****d off" after being dropped by coach Warren Gatland for the final Lions Test, saying he found it hard to celebrate the win.
Heaslip, who was left out of the 23 that claimed the series in Sydney in July, has told Rugby World Magazine that he kept his distance at full-time.
"I very much felt like a third wheel, to be honest," he said, after the Lions claimed the series 2-1.
"I'll look back on it one day and say, 'You know what, I played in two out of three of those Tests,' but at the time I didn't want to be there. I remember walking around and I kept my distance from the lads celebrating. I wasn't really getting into any photos or anything like that.
"John Feehan (CEO of the Lions) came over to me and said, 'You gotta smile, you're part of this, it's not just a one-day thing.' I think John was feeling for me a bit and he did his best to pick my spirits up. But it was a very tough moment."
He added: "We trained after the squad was announced on the Wednesday morning and that was my last session."
"I didn't have to go to any meetings. I pulled myself back. The guys not in the 23 withdrew to a degree to allow the lads to focus on what they had to do. We obviously supported the guys but we kept our distance because we needed a little head space too."