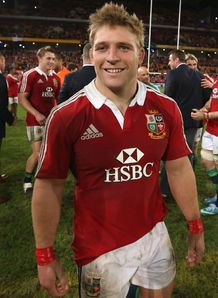 Related links
Also see
Leicester, England and Lions hooker Tom Youngs has described his meteoric rise throughout last season as "ridiculous."
Youngs took over the number two shirt at Leicester Tigers before playing for England throughout the November Internationals, including in the win over New Zealand, before playing a full role in Six Nations, winning the Aviva Premiership with the Tigers and starting the first and second Tests in Australia for the British and Irish Lions.
It is a rise quite unlike any other, with Youngs going on the Lions tour with scrum-half brother Ben.
"It's been a ridiculous year and it has been difficult for it to sink in, because as you go from game to game, you don't get time to think about it," said Youngs to the Leicester Mercury.
"When I get my down time, it was will sink in and I will probably say to myself, 'Yeah, that was a pretty special season'."
Youngs has been quick to thank several players who have helped him on his journey, including coaches and players at both Leicester and also RFU Championship side Nottingham, where he spent time on loan.
"Lots of people have been important in that, and have always been there for me. Glenn Delaney, at Nottingham, was great when I was playing there and learning my trade," added Youngs, who converted from centre to the front-row only a few years ago.
"Then there are the players at Tigers, like George Chuter, who was just outstanding with me, and the likes of Dan Cole and Boris Stankovich, too. I used to stand over their shoulders and watch them scrummage, asking them questions all of the time.
"Even if it was the most stupidest question in the world, they wouldn't laugh, they would just help me out.
"Then there is Geoff Parling, running the line-out and helping me to get an understanding of that. I have learned a lot from these guys.
"I can credit Leicester Tigers and Richard Cockerill for sticking by me, too. I remember when we played Harlequins at home last season and we lost three line-outs on the trot, five metres away from their line. At least two of them were my fault.
"I came off that pitch at the end of the game feeling horrendous that we had lost the game, and I thought I wouldn't play again for a while.
"But Cockers came up and said that he would be sticking with me. It showed a lot of character and belief in me to make that decision. He has been fantastic for me, stuck with me and not pulled me down. He has just let me get on with it and known that I will improve."