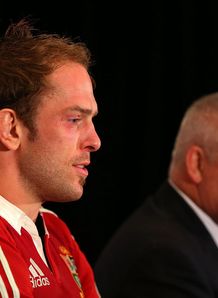 Related links
Also see
Wales lock Alun-Wyn Jones believes Warren Gatland's winning gamble on Brian O'Driscoll proves he is the right man to lead the British and Irish Lions in 2017.
Gatland was widely criticised for leaving veteran Ireland midfelder O'Driscoll out of the matchday squad for the series decider against the Wallabies in Sydney last Saturday, but was vindicated as the Lions claimed a convincing 41-16 win.
Jones captained the tourists in that game due to the absence of O'Driscoll, Paul O'Connell and Sam Warburton feels Gatland is the right man to coach the Lions when they tour New Zealand in four years time.
"It's funny because before the last game everyone was criticising him, saying that he had done the wrong thing with his selection, and now they are touting him for the next one," said Jones in a column for the Sunday Express.
"Can he do a good job? Definitely. He proved that when he gambled and it worked. I don't know if it's the Midas touch but whatever he does works."
It was a second Lions tour for Jones and he feels it is too early to look ahead to a potential third trip with the tourists.
"There are a lot of things to take into account for four years' time," he added.
"How I'm playing, how my body is, where I'm playing and what the situation is with family.
"I know I'll only be 31 but a lot of water will have passed under the bridge by then. I like to look ahead but I don't like to look that far ahead."
Jones was involved in one of the tour's major talking points, when Wallabies skipper James Horwill was cited for stamping on his head in the first Test in Brisbane.
Horwill was found not guilty at a disciplinary hearing and although the International Rugby Board appealed, the verdict was upheld and he was allowed to play in Sydney.
"Nobody knows the intention other than James himself," added Jones.
"I shook his hand before the game and I shook his hand afterwards.
"Everybody who plays the game has seen red at some point or other. I have been there myself but I have been around too long in rugby to hold grudges. By the end I felt a little bit sorry for James.
"I thought if he got off once, fine, let's crack on and play rugby. It became a sideshow towards the end and detracted from the main event."