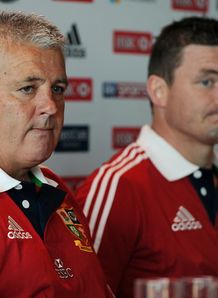 Related links
Also see
Lions boss Warren Gatland admits that his decision to drop Brian O'Driscoll for the deciding third Test against Australia was the toughest call he's made.
Gatland was heavily criticized for his decision to omit the veteran from his matchday 22 for the encounter, only to be vindicated when his side notched up a 41-16 victory to secure the silverware.
The move wasn't expected by many and the fallout would have been massive had the midfield pairing of Jamie Roberts and Jonathan Davies failed to perform in a Lions defeat, but Gatland insists he had to go with what he believed in regardless of the consequences.
"I felt it was (the biggest call of my career)," he told ONE News.
"We were making what was the best decision in winning the Test series, and I wasn't going to leave Australia having any regrets."
"If we'd picked Brian the way we played we probably still would have won the game but if we lost there was only one person who would be criticised, that finger would be solely pointed at me."
One would expect that the Lions, a squad made up of players from four nations, would be the outfit most likely to lack cohesion, but Gatland is of the opinion that it was in fact the Australians who failed to gel while his troops worked as one.
"We felt there was no unity in Australian rugby between Super Rugby franchises," he explained.
"Between the Australian Rugby Union, between media, public everything there seemed so divided."