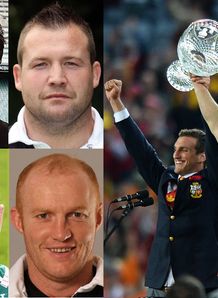 Our panel of former international players reviews the victorious British and Irish Lions tour of Australia.
If Australian Rugby Union needed a boost in terms of the profile of the sport, then it just got it, as an epic Lions victory, executed with power and panache, sealed the 2013 Tom Richards Trophy for the visitors.
The scenes in Sydney were amazing, as grown men were reduced to tears, and a Lions series win, 16 years in the making, was finally claimed in a stunning display of intensely physical rugby.
When Plan A fails, simply throw more bulk at it, appear to be the watchwords of Warren Gatland and his men. Gatland, whose selection musings almost caused civil unrest in the Home Nations, is living proof of the importance of combinations over individuals.
He tried to compromise with a Plan B early on, looking to include form players and running threats. But compromise and Gatland are uncomfortable bedfellows, and in the final analysis, the Kiwi coach's myopic belief in his system finally paid off, as wave after wave of Lions power simply battered the Wallabies into submission.
Planet Rugby's Expert Witnesses believe that the 2013 British and Irish Lions finally stood up and produced a performance that would define many careers.
"I've said throughout this series that there was a need for the Lions players to become extraordinary, to reach new highs," commented Martin Corry.
"Last night we saw exactly that. Alex Corbisiero was absolutely world class in every facet of his play; I think he did enough in first 25 minutes to get Man of the Match let alone the full 80! Alun-Wyn Jones put his hand up and just simply said 'follow me,' and Leigh Halfpenny appeared to have the Midas touch - everything he did turned to gold. He has been astonishingly good in this series, and it was fitting to see his penetrative running causing havoc towards the end.
"Alongside those three, it's almost impossible to find a player that played poorly. Mike Phillips look tired, but besides that, from 1 to 23, the Lions outplayed and out-thought a very good Australian side.
"On the night, we bossed the gain line. We crossed it in attack and we maintained it in defence. Every single forward put in a performance of immense quality, and every single back threatened and created at some point in the game. Factor in we crippled Australia in the set piece and you will not lose many Test matches playing like that.
"You have to also congratulate the Wallabies too. This was a side that punched well above its weight, and, when celebrating the victory, please don't forget Will Genia has been carrying a shocking knee injury all series, Israel Folau pulled a hammy after 20 minutes, and George Smith, a player I have huge admiration for, had no idea where he was after he'd collided with Richard Hibbard early on.
"So, it's fair to say that whilst we won handsomely, Australia did not have a lot of luck, and could have gone into the final Test 2-0 up.
"James Horwill too has impressed all around. He's an honest guy and a grafter, and his speech post game really summed up the spirit of rugby."
Geordan Murphy, one of the most attack-minded players of recent times, believes that Tests often hinge on pivotal moments.
"There was a period after half time when my nails were screaming at me to stop biting them, as the Wallabies bounced back as only they can," smiled the genial Irishman.
"However, there are plays that simply define a performance, and Toby Faletau's turnover that allowed Jonny Sexton to unleash George North was one of those moments. That relieved all the Wallaby pressure, put paid to an Australian comeback, and from then on, the Aussies were forced to play catch up rugby. In that scenario against a side as big and powerful as the Lions, they were always going to leak tries and the scoreline, whilst fair for this match, was probably a little cruel. Certainly not representative of how hard the Aussies have fought during the series."
Mark Regan, a formidable frontrower for the Lions, was positively beaming at the display of the Lions tight five.
"When you have a scrummage so dominant like that, it causes so many other issues for the defending side. The space that the Lions channel runners enjoyed was purely down to the dominance and hard work done at the coalface," said Regan.
"Don't forget the scrummaging of both Lydiate and O'Brien too. It was obvious to me in the first two Tests that the flankers weren't really giving much aid to their props. With slightly shorter and 'squatter' guys like Sean and Dan, the props enjoyed a much more powerful shove from the engine room.
"Don't denude the impact of Corbisiero either! I mentioned in the week that Benn Alexander has a tendency to 'yoke' his bind (throw his arm too far over the loosehead), and expose his ribs. Corbs really exploited that. He starts with such a straight back and low backside that his power vector from down to up is very dynamic. Also, he manages, through good binding and technique, to keep his backside parallel and alongside his hooker, which means that the opposing tighthead has no real gap to disconnect the loosehead. With Adam Jones absolutely rock solid and controlling the scrum height almost at will, it allowed Corbs to really attack and pinch the loosehead side. World class scrummaging is a team collective, and we played as eight.
"A big mention too to Romain Poite. France is, to me, the home of scrummaging, and their refs have a very clear and innate understanding of what's going on. They value the scrum, and Poite let the set piece breathe."
With heroes in every department of the Lions team, Martyn Williams believes this was a night to remember:
"That was power finished with panache," beamed a proud Welshman.
"Gats is the master of preparing for the big match. He's his own man, and he had the courage of his convictions and game plan when others, including me, had doubts.
"In the final analysis, we won the set-piece and we won the collisions. Once you've done that, the rest is relatively straightforward.
"This is great news for the Lions brand which has suffered slightly in recent times. That was the best performance I can remember and it goes to show that sometimes you need to re-examine why Plan A is failing rather than resort to a gameplan you're not used to using. In every department there were heroes; Jonathan Davies and Jonny Sexton were superb, yet due to the standard elsewhere in the side, we've hardly mentioned their names. Tommy Bowe made some crucial interventions, Toby Faletau ruled the breakdown and Jamie Roberts would have run through the Stadium wall if he'd have been asked to. Every man in that Sea of Red was immense.
"Geoff Parling epitomised what being a Lion means. Here's a man who maximises every ounce of ability he has, and alongside him was my old mate Alun-Wyn Jones who rose to every challenge thrown at him, and putting in simply the finest game of his Test career. The man is the blueprint of a modern lock and was an absolute machine. He's been putting in performances like that for a long time and it's great to see his excellence rewarded and acknowledged.
"However, if there was one detail throughout the Tests which I believe was telling, it would be that we had a specialist ten in the pivotal position on the pitch. James O'Connor, for all his skills, is not a fly-half, and Sexton ran the show.
"Robbie Deans made a big selection blunder in this regard, and one that had a big influence on the series. At one point, Australia were so worried that Kurtly Beale was forced to come up to fly-half with O'Connor moving to full-back. At times the scrum-half acted as the playmaker. Fly-half is the key decision maker on the field, and as good as Will Genia is, even he cannot play in two positions at once!"
In a series where our Experts have spent hours analysing the games, and written many column inches in the effort of seeking both weakness and strength in both teams, it's sometimes rewarding to step away from detail and look more holistically at the series. In the final analysis, what do these Test matches mean for both teams and for rugby in general?
Mark Regan: "Union is not the dominant code here in Australia. However, as James Horwill rightly said, the interest and excitement this series has generated has been amazing. You only have to look around Sydney tonight (Saturday) to see the sea of red, the waves of gold and the happiness of both sets of fans. The spirit of the series has been exemplary; the Horwill affair was a storm in an IRB teacup, so no real incidents of disrepute, and absolute respect between both sides which is wonderful. Australia needs a focus on Union and it got exactly that. For the Lions, it's the reinvigoration of a brand that many have thought has been failing in recent times, and rugby needs the Lions in vibrant and healthy form. It's great to see them back."
Geordan Murphy: "Taking any southern hemisphere side at home is no mean achievement. It's something that's missing from lots of great player's CVs and this ranks alongside any Lions series win. A word about my good mate Brian O'Driscoll. Much was said about his omission, and Brian would have been truly devastated to have been dropped. However, ask him if he'd have traded a Lions Test for a series win, and I know he'd have replied with an emphatic yes. He got his wish, and so did the entire team. I am delighted for all of my pals out there, and all of the fans who offer so much support."
Martyn Williams: "This was the epitome of a team display, and that is what rugby is all about. Take Alex Corbisiero as an example. 10 days ago, he was a cripple. The efforts of the medical staff literally made the difference between him starting or not. If he'd not have played in those first two minutes, we may not have won that first scrum hit, and we may have not scored the try. Those of us who toured in 2001 always believed Australia was unfinished business for the Lions, and perhaps that was our legacy for these boys. It's memories like that which inspire, and teamship like that which drives a team through a tour. An amazing series."
Martin Corry: "At times, I doubted if we had the x-factor needed to defeat a highly intelligent Australian outfit. As the tour went on, heroes emerged; Wyn-Jones, Parling, North, Halfpenny, Corbisiero, Sexton. You can probably list 20 more, and that also underlines the teamwork that Martyn mentioned. But for me, the outstanding feature was the spirit in which it was played. The Australian and the Lions' behaviour was exemplary in both wins and defeats. The quality of rugby was as intense as I've seen, and both sides will have huge respect for each other. It's also worth sparing time to think about the thousands of people that are walking around the UK and Eire smiling about rugby again. This was a landmark series, and one that could have made or broken the Lions.
"The greatest of all Lions, Willie-John McBride once said 'it matters greatly who is going to win, but it matters not at all who has won.' I agree with his sentiments and that spirit has been prevalent throughout the series, but you can bet your bottom dollar there are 37 Lions in Sydney that believe winning beer tastes better than losing beer!"
Author's Note:
In writing these exclusive articles, I have had the privilege of working with four of the sharpest rugby minds around, four guys who have lived through many Lions tours, and that has been both a delight and an education.
I would like to thank Martyn, Martin, Ronnie and Geordie for the hours of valuable time given to these articles. I'd also like to express my gratitude for tolerance of the ever-lasting technological struggle of communicating across time zones that has defined these last seven weeks. My apologies also for misquoting, arguing and leading!
My gratitude also to the many positive comments from all of the readership.
Four more years boys......!
James While.