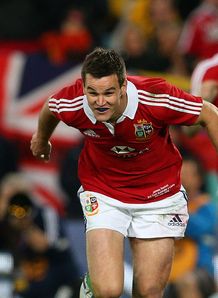 Related links
Also see
Ireland number ten Jonathan Sexton believes the squad of 2013 "did the Lions tradition proud" following their 2-1 series success over the Wallabies.
The playmaker crossed for a try during the 41-16 victory over Australia last weekend and before he sets off for new club Racing Metro, he let it sink in.
"This is huge for me," said Sexton afterwards.
"Everything you win is very special, but this is just unique.
"You are playing with guys you barely know, and you have to forge that bond. You saw by the celebrations that we did that. We did the Lions tradition proud.
"The big motivation as a player is you want to be remembered when you hang up your boots, and you try to win as much as possible and do the right things as much as possible. Winning a Lions series is definitely part of that."
The Lions were 19-3 up at one point in the game before Australia clawed their way back to 19-16. However, the Lions responded in the second-half, which delighted the number ten.
"It's very easy when the momentum goes that you think it's not your day," he added.
"I am really proud of the way we stuck in there. No-one changed the plan and no-one panicked (at 19-16), and we swung it back.
"We were up for it last week, but we just played a bit better this time. We got more set-piece ball and we were more accurate. That is the bottom line.
"This time, though, we grabbed it by the scruff of the neck and went for it. We knew that if we scored tries, then we would win."