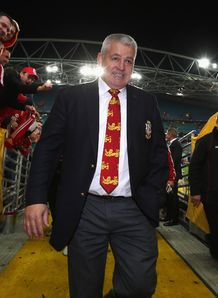 Related links
Also see
Victorious British and Irish Lions coach Warren Gatland would relish the opportunity to lead the side to his native New Zealand in 2017.
The Wales coach admitted that he was "shocked" by the "vitriolic" response to his team selection ahead of Saturday's series-clinching win over Australia as fans, former players and columnists reacted to the omission of centre Brian O'Driscoll, but the Kiwi coach says would still be eager for a second stint in the top job.
"If I was given the opportunity to do the Lions in New Zealand in 2017 I would jump at that opportunity - 100 per cent," he said on Sunday.
"It would be a massive honour and extra special to take them to my home country."
Gatland however added that there must be changes to the scheduling if the Lions are to have a chance of another victory in New Zealand, where they have only won one series, back in 1971.
"I think it's important that the Lions and the home unions get together in terms of adequate preparation time," he told reporters in Sydney.
"The season needs to be adjusted a little bit so we can spend a couple of weeks in the UK and Ireland preparing properly.
"There needs to be some negotiations with the southern hemisphere to push things back a bit in terms of lead-up games.
"To be successful, you want to have the best possible opportunity, in New Zealand in four years time poses a different challenge to Australia.
"I'm not saying it's harder, it's different from a logistical point of view.
"They've got make sure they've got the proper processes in place to give the Lions the best opportunity to be successful."
Despite the satisfaction of a win on Saturday which vindicated his selection, Gatland was clearly still digesting the reaction to his decision to drop O'Driscoll and pack his team with Welshmen.
"A lot of you made a point about the number of Welsh players that were selected but I think you missed the story," he said.
"The story was about the finishing team and the guys that came off the bench and the job they did. I thought they were absolutely outstanding
"It came down to the wire, that's why you're involved in professional sport, you want it to be tough, you want it to be close, you want it to be exciting and you want it to be nailbiting, and it definitely fulfilled all those elements.
"I was absolutely shocked by what was said. It was vitriolic almost in terms of the criticism.
"I haven't taken a lot of pleasure out of this in terms of feeling vindicated. I haven't enjoyed the last 72 hours, it's been tough personally.
"To be honest, if we had selected Brian, we would have won the game with that performance as well.
"But I felt at the time that the call was the right rugby decision, not a sentimental decision.
"Spoke to Brian after the game and said, I know how disappointing it was, but he was part of a winning series."
The 49-year-old added that he would be delighted if the successful series played a part in keeping the Lions tradition alive.
"It's something that we need to preserve for the modern game," he said.
"It's special, just the fans and so on, it's been a privilege for me to be a part of it and to experience it.
"It's not just in Britain and Ireland, I've had texts from friends back in New Zealand with people were more interested in the Lions than the French being in New Zealand because of the excitement it created."