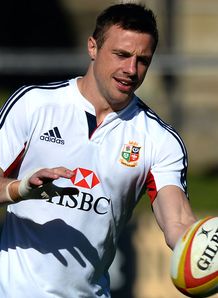 British and Irish Lions wing Tommy Bowe insists the squad will leave everything out on the pitch in the series decider on Saturday.
Bowe has made an impressive recovery from a broken hand to start last week's Test in Melbourne, keeping his spot for the third and final Test between the Lions and Australia in Sydney.
Realising that the Lions were at fault when in possession last week, kicking away too much ball, Bowe hopes that the Lions can open up their game and take the disappointment of 2009 with them into the must-win clash.
"Last week we did so much defending. We were on the back foot an awful lot and when we had the ball we kicked it away," said Bowe.
"If we can play rugby tomorrow we can do a lot of damage, certainly with a lot of the players we've got in this team. There are huge ball carriers there.
"If we can hold on to the ball, keep battering over the top of the Aussies, hopefully it will cause a bit of damage.
"There's a huge amount of emotion in the squad at the minute. We realise that it's 16 years since we last won a Lions series.
"The disappointment of losing out to a try in the last six minutes of the second Test in Melbourne was heartbreaking.
"We've taken a lot from that, we've regrouped and we'll leave everything out on the pitch tomorrow.
"I just remember the disappointment of it all in 2009. I remember the disappointment of the second Test when we lost to that last kick. I just hope it doesn't come down to that again.
"The first two Tests against Australia have been really close, neck and neck stuff.
"Everybody will be giving everything tomorrow. We know exactly what we need to do and we want to play some rugby.
"We were a little bit passive last weekend, we let Australia take the game to us and we need to reverse that tomorrow."