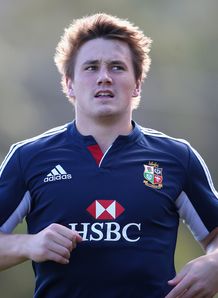 Lions centre Jonathan Davies has played down being in the spotlight when the tourists face Australia in Saturday's third and final Test.
Davies, who has taken the position of Brian O'Driscoll in the side, will partner Jamie Roberts in midfield for the winner-takes-all game.
"I'm just over the moon to be selected for such a massive game," Davies said when asked about his feelings following Tuesday's team selection.
"It's one of the biggest games of my career and I can't wait for the opportunity now.
"Personally I'm pretty pleased with the way I've been playing but I need to make sure I deliver.
"There's a lot of pressure on everyone really. Everyone's got to deliver, it's the last chance saloon.
"Training's gone really well and the boys are looking forward to it. It's going to be a tough task but we're really focused on the job in hand.
"We know how important this game is and we're looking to do the job on Saturday.
"I think we need to get our forwards into the game early and make sure we use the ball effectively.
"A lot of the squad have played in really big games and we'll draw on that experience. We're excited about it, we won't fear it, and we just have to go out there and do the job."
The job is both on the field and off it during the build-up and Davies paid tribute to how experienced Ireland centre O'Driscoll reacted in the aftermath of hearing the team.
"After the team was announced, on the way to training, Brian came over and shook my hand and congratulated me," he said.
"That's the way the whole squad's been, everybody's really close.
"With what he's achieved in the game, Brian is one of the greats, and I was very grateful he congratulated me.
"Everybody not involved (in the Tests) has been a total professional. Brian came and congratulated me and then got on with training."