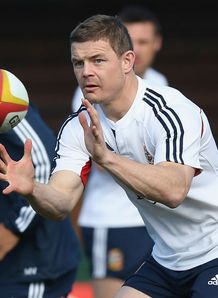 Former Ireland skipper Keith Wood has criticised British and Irish Lions coach Warren Gatland for dropping Brian O'Driscoll for Saturday's Test against Australia.
Wood, who played as a hooker on two tours with the Lions, also accused Gatland of disrespecting the tradition of the combined home nations representative side.
With tour captain Sam Warburton and veteran lock Paul O'Connell both injured, O'Driscoll was seen by many as the obvious choice to lead the Lions in the series decider in Sydney.
But instead, the 34-year-old centre was a shock omission from Gatland's matchday squad as Wales' Jamie Roberts and Jonathan Davies were picked to start in midfield, with England's Manu Tuilagi on the bench.
Wales lock Alun-Wyn Jones will lead the team and Wood feels O'Driscoll's leadership will be missed.
"I've been uncomfortable throughout this tour whenever Warren Gatland has spoken about the captaincy," he told the BBC.
"He tries to depower it, he consistently says it isn't about leadership and that isn't the most important thing.
"Having been on two Lions tours myself under (former England skipper) Martin Johnson, I would have said the leadership of the captain was the most important thing.
"Brian O'Driscoll has been quiet in the two Tests but at every stage, he has been the clarion call once Paul O'Connell got injured.
"I just think Gatland has made a terrible mistake."
Roberts' return shows that the Lions will try to dominate the Wallabies physically but Wood is angry that O'Driscoll's axing means that there's little "spark" in the tourists' game.
"It's entirely built around power," he said.
"A huge amount rests on Jamie Roberts' shoulders and they were crying out for him in the last two weeks. I just think Brian's subtlety off him would have worked.
"You can say (Gatland is) picking on form but he's picked an unbelievably direct team with very little guile in it, specifically to play this game plan.
"You're asking them to pulverise a team. The Lions are at the end of virtually 12 months of the season, all these guys are pretty tired and you're looking for the absolute maximum for it to work for them.
"It can happen, I want it to happen, I'm just a little bit disappointed at the manner in which I think the tradition has been treated.
"The Lions is about getting the best quality out of the players of these islands, not having an intransigent game plan.
"We're not seeing that spark that we're used to seeing from the Lions because it's a game plan that doesn't suit an awful lot of the players.
"It suits the Welsh players, that's why there's 10 of them playing. We're not seeing the blend of four teams.
"That's what the Lions is about, that's what makes it so phenomenal."