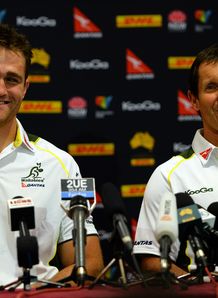 Related links
Also see
Australia captain James Horwill has been given the green light to play in this Saturday's final Lions Test after being cleared by the International Rugby Board on Tuesday.
Horwill was cited for a stamping contrary to Law 10.4(b) during the first-half of the first Test between Australia and the British and Irish Lions in Brisbane on June 22. At the original hearing the independent Judicial Officer determined on the balance of probabilities that contact with the head was accidental.
While ultimately not proving successful in its appeal, the IRB is satisfied that it took the right approach under Regulation 17.22.2 and in line with the tours agreement between Australia and the Lions to further examine the case and subsequently lodge an appeal in the interests of player welfare as well as to uphold the disciplinary rules.
The IRB is also satisfied the judicial review was entirely thorough with the Appeal Officer reserving his judgement to allow further extensive consideration of the submissions by both parties.
"The protection of players from foul play, intentional or otherwise, is vital in upholding the values and image of rugby and to send a clear message to all levels of the game that such acts are unacceptable," read a statement.
"In light of the potential adverse implications, the IRB is keen to ensure all acts of foul play involving the head should be given serious and thorough consideration. This was recognised by the Appeal Officer in his decision.
"The IRB would like to acknowledge the professional manner in which the Australian Rugby Union managed the process as Host Union of the tour. The IRB will be making no further comment on the case."