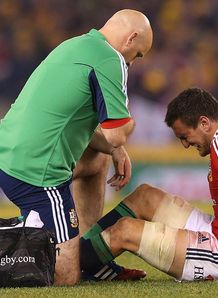 British and Irish Lions captain Sam Warburton insisted that his side could still win the Test series with Australia next weekend.
Warburton put in a phenomenal performance before being forced to leave the field after 67 minutes due to injury.
The Wales captain is now a doubt for the third Test due to a hamstring injury, with a final verdict to be given in the next 48 hours.
The Lions at one point lead 15-9 in the second half, only for Adam Ashley-Cooper's late try to crush their dreams of securing the Test series in Melbourne.
"We're going through what Australia went through last week," said Warburton.
"It is disappointing but the lads will wake up tomorrow and realise that there's still a Test series up for grabs.
"We're definitely capable of winning this series; we've shown that in the two games against Australia. It's going to be won by a whisker next week and I hope it's us.
"Australia got a hold on us. They got some territory inside our 22 and we found it difficult to get out. That's something you work on in training but when you're under extreme pressure it's easier said than done. Territory is everything in games like this.
"We can still achieve our dream. I know people are disappointed with today's result but it's game on for next week."