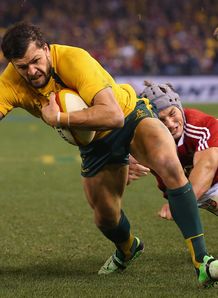 Australian matchwinner Adam Ashley-Cooper credited the Wallabies' determination and unity as they battled to win the second Test.
Ashley-Cooper's 76th minute try set up the winning conversion for Christian Leali'ifano and levelled the Test series with the Lions at 1-1.
After the agony of letting the first Test slip by them in Brisbane last week, Ashley-Cooper insisted that the squad had stayed tight through the week in the build-up to the second Test had spurred them on to victory.
"It was really important to retain that belief we've been working on for so many years. Six points down, there was a lot of frustration out there because possession was letting us down in terms of ball security," said Ashley-Cooper.
"In the end, Test match football is about grinding it out and going to the 80th minute. Fortunately for us, we were able to get the points.
"The key messages were possession and balls security. We had to get in the Lions half, hold onto the ball and build pressure. We had to get over the gain line and we knew points would come through penalties or through space.
"There are no external influences that are distracting the squad. We're remaining tight. There were lots of off-field incidents in the week but that wasn't a distraction because our preparation is very important to us and we're going to continue that.
"It happened very quickly but I'm very proud to be a part of this team and score a try that made the difference tonight. It's not about me, it's about the team holding in there for 80 minutes and getting the result.
"It's really going to make for a cracking final next week in Sydney."