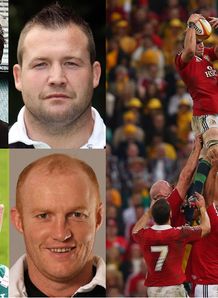 With one foot over the threshold of British & Irish Lions folklore, the second Test on Saturday could be the defining 80 minutes of the careers of 37 men.
Planet Rugby sat down with our panel of Expert Witnesses to examine the evidence of the first Test win, and the challenge of the weekend ahead.
With Leigh Halfpenny's assured display at full-back proving the difference between Australia and the British & Irish Lions in Brisbane, Melbourne hosts Saturday's crucial encounter. A win for the Lions places the Class of 2103 in the immortal category, shared by the Lions tourists of 1971, 74, 89 and 97.
With injuries forcing changes for both sides, and with Australia having only themselves (and Kurtley Beale) to blame for their first Test loss, Martin Corry anticipates a titanic struggle on Saturday.
"At 7-3 after a few minutes, Australia were in the ascendency," noted Corry.
"It took a piece of individual brilliance from George North to change the game, although had Australia even approached the standard of Leigh Halfpenny's place kicking, the result would have gone a different way."
"After the first quarter I really believed we would struggle to pull the result out of the bag, especially considering the threat posed by the emerging talent of the astonishing Israel Folau."
More of Folau later.
Martyn Williams, Wales' most capped forward, agrees with Corry that it was a victory too close for comfort:
"Warren Gatland always believes in the mantra 'Our forwards will dominate and outwork your forwards.' That simply did not happen and he will be very disappointed in that respect, and the loose forward area was an issue. As a back rower myself, I always believe that there can be a big difference between your best three back row forwards available, and the best unit available. Perhaps we were guilty of picking the best three players, but paying less attention to the balance of those three?
"I certainly believe that playing Tom Croft and Jamie Heaslip together is a luxury, leaving the Lions short of a big carrying physical presence.
"Croft worked his socks off clearing out rucks and mauls, and also was the Lions' leading carrier in the back row. His line out presence, as shown in ten minutes of play on Tuesday, is crucial. Factor in that we now lose Paul O'Connell's towering presence and it may be that Jamie Heaslip makes way for the driving and carrying of Toby Faletau or the muscular power of Sean O'Brien, although asking either of them to start the Test after playing a match on Tuesday is a huge challenge."
Full-back Geordan Murphy has spent his career marshalling both attack and defence for Ireland and Leicester Tigers. He is quick to acknowledge the impact of the Australian individual effort:
"Will Genia and Israel Folau put in performances of incredible stature," he observed.
"We all knew about Genia, but still he orchestrated brilliantly all night.
"Most international teams have their playmaker at ten, not at nine! Defending against him is tough work, as the creativity comes from directly behind the base of first phase ball or the set piece. Normally, you have space to watch the ten and to decide how to defend against him; blitz up on the 12 channel if you want him to kick or break back into the pack; blitz up the ten channel if you want the outside half to move the ball across the field. Simple stuff, but when that tactical thinking comes from scrum-half, it becomes a different defensive system altogether and relies upon the back row and fly-half to put in the graft."
"Croft, Warburton and Heaslip were put under immense pressure from Genia, and his ability to occupy the thoughts of the loose forwards creates spaces elsewhere.
"Australia adapted much better than we did. If you look back at the game, we had a 100 percent kicking record. Had the Aussies matched that, they'd have won comfortably.
"I think it's fair to say that our attention to detail was also slightly better. I noticed that, when taking the final goal kick, Kurtley Beale had moulded stud boots on! We all know how the Brisbane turf can 'delaminate' - can you imagine Jonny Wilkinson or Leigh halfpenny making a schoolboy error like that?!"
Martyn Williams, a former team-mate of Lions scrum-half Mike Phillips, concurs with Murphy.
"Ben Youngs has been brilliant for the Lions almost every time he comes on. There is a big argument for starting with him, but I would suggest that his value on this tour is in using his attacking skills when legs and defences are tired. Mike Phillips' defensive work is key against Genia, and Phillips' physical presence can break down the opposition to allow the likes of Youngs to make a big impact.
"Think of this in cricket terms; Kevin Pietersen is at his bullying best as the bowlers become tired and the ball becomes softer. Yes, he could open the batting, but his talents are better suited further down the batting order. I see that analogy as summing up the gifts the Lions have at half-back; Mikey is your Alistair Cook, sets the scene, ties the innings together early, and Benny is the KP, someone that can come and play with freedom and creativity later on in the game! Contrasting styles but both equally beneficial to the team collective.
"In short, Phillips needs to start, and must compete physically with Genia. Tie him in, get his forwards going around 'the corner' at pace, and minimize the space and time he has to operate in."
In other areas of the game, Corry, a self-confessed line-out 'geek', expresses his concerns about the Lions line-out, especially without the experience of O'Connell.
"The Lions threw virtually everything to two or four for most of the game. Australia are one of the most streetwise sides around in this respect, and James Horwill is a high-quality operator. You can bet your bottom dollar Robbie Deans and Horwill will have spent hours analyzing the Lions' tactics. They will have noted the back row peel move off the front jumper used for Sean O'Brien's try on Tuesday. They will throw their tall men in at the front to disrupt the Lions' short throws.
"Australia will mark up as soon as the line-out is formed, and force the Lions to throw quickly.
"We need to show more creativity in this area. Tom Youngs is clearly reticent to 'go long' early in the game, but on Saturday its essential we vary our plays, and use the longer ball to provide much quicker attacking platforms for our huge back division," comment the former England skipper.
"Get North and O'Driscoll running hard and straight down the centre channels off quick line-out ball and we are in business!
"I have no qualms about Geoff Parling coming in. He's been the heart and soul of this tour. Every Lions trip seems to throw up an unsung hero, and the big Geordie has been exactly that in 2013. He fully deserves his Test start, and, knowing him well, I know exactly what this will mean to him.
Martyn Williams added: "Australia played an intelligent game last weekend. They 'gave' the Lions the front throw, in order to allow their backrow freedom and speed to get to the three-quarter line and stop them behind the gain line. Clever tactics, and they banked on the pace of their loose forwards, combined with the slowness of front line-out ball, to defend the gain line rather than defend the line-out. Very intelligent play.
Mark 'Ronnie' Regan, capped 47 times as England's hooker, also sees the need to change the line-out options:
"Line-out throwing is often a mental issue. Sides like Australia will be bellowing at both the opposition hooker, screaming at the ref to get the ball into the line-out. The crowd will be deafening. It is a pressure cooker environment, and Tom Youngs must put all of this out of his head, blinker himself and just focus on hitting the man. If he could get one successful long throw in early, his confidence will be sky high, and the team will benefit," said the burly Bristolian.
"The calls need to be clear; Parling will lead the line-out and is exceptional in this area, so I have no worries in this regard. It is how Youngs copes with the pressure that will be key.
"I was delighted with Youngs in the first Test. 100percent line-out completion, powerful runs and good tight work totally justified his selection."
In the front row, despite a number of powerful scrummages, the Lions didn't quite maintain their dominance. Ronnie believes that, although Parling will bring value to the line-out, that more attention should be paid to getting the scrummage right:
"There's a number of issues here. Richie Gray is a much better scrummager than Parling, and favours the loosehead side. Corbisiero is a huge loss, and if Mako Vunipolo starts, he'd benefit from Gray over Parling.
"My other issue is with both flankers. People forget the importance of their power. They are literally part of the second row and need to shove! Both Croft and Warburton are sliding up the backsides of their props and offering very little support. This may be because of the Genia threat, but I do believe that Sean O'Brien would add a lot in this area, being a brilliant scrummaging flanker, than other players.
"I may sound like a broken record, but I am perplexed that Andrew Sheridan is still in Toulon. If he were available for Saturday, we'd not be having this debate about the loosehead berth. He'd answer all the questions posed!
"I assure you that Australia would be quaking in their boots if he were selected. He has been their Nemesis many times and it's ridiculous he's not on tour, and journeymen like Tom Court have been selected in front of him.
"On the tighthead, Gatland and Rowntree took Adam Jones off far too early on Saturday. He needs to be left on as long as possible, until he's 'hanging', as he offers so much to the Lions set piece."
Back to Israel Folau. Martin Corry believes we've witnessed a game changer in the same manner as Jonah Lomu and Jason Robinson before him:
"This guy is utterly amazing," eulogized Corry.
"He has talents that are astonishing. How on earth do you defend against him? I believe he's going to change wing play in the same fashion as Lomu and Jason did when they arrived on the scene.
"If you look at Saturday, he asked so many questions of the blitz defence.
"His presence forces the 13 and 14, key men in leading the blitz out, to hang back. The outside man cannot rush up, and needs to hang back and defend the space between himself and the openside touchline.
"Both Folau and Genia put in performances of true world class in the first Test. They were absolutely in another class to the other players on the pitch, and the Lions should take note."
Williams agrees with Corry, and suggests that a change may occur on the wing:
"Tommy Bowe is one of the best defensive wings in world rugby. As well as Alex Cuthbert played, Bowe's nous will be sorely needed on Saturday, and I believe Gatland will jump at the chance to select him if available. Bowe understands angles and is a master of blitzing. Against Folau, Bowe would be key."
With Saturday promising to be a titanic encounter, all of our experts were unanimous about one area; understanding the referee.
"It's key to learn and learn quickly," commented Martin Corry.
"To get pinged once is one thing, but to repeat the offence is absolutely stupid.
"We were slow to adapt to Chris Pollock's style on Saturday, and if we repeat this with Craig Joubert, we will history.
"But get it right, and I believe we have the ability to take the series, and to put the 2013 Lions tour in the history books alongside the greats of yesteryear. We know how Craig interprets the breakdown, so there can be no excuses this time around.
"Let's hope we have a thrilling encounter."
That is it for Expert Witness for this week. Our thanks go again to our panel and we look forward to examining the Second Test in detail in seven days time.
Corry, Williams, Murphy and Regan spoke to James While