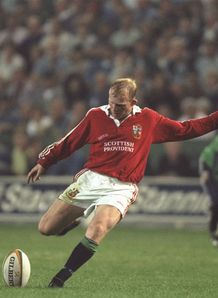 Related links
Also see
British and Irish Lions kicking guru Neil Jenkins has turned up the heat on Australia's goal-kickers ahead of this weekend's second Test in Melbourne.
Jenkins ran the tee onto the field in the first Test, advising Leigh Halfpenny as the full-back landed five goals from six attempts in the 23-21 victory.
It was a stark contrast to Australia, with James O'Connor missing three shots at goal and Kurtley Beale missing two potential game-winning kicks in the last five minutes - including a late penalty.
"The importance of goal kicking was seen on Saturday," said Jenkins, who booted the Lions to victory in South Africa, their last series win in 1997.
"Generally (the result) does come down to goal kicking."
Beale, who took over the duties from a faltering O'Connor after going on as a replacement in Brisbane, pushed a penalty to the right in the 75th minute and then slipped approaching the tee for an attempt in the dying seconds and ended up on the ground as his kick faded away.
The British and Irish Lions jumped ecstatically after escaping with the win, while Wallabies walked over to console Beale.
Australia does not employ a permanent specialist goal kicking coach, something that surprises Jenkins, who formerly owned the test point scoring record.
Jenkins works throughout the season at Wales with Halfpenny, and during the Lions tour with England's Owen Farrell, Ireland's Jonathan Sexton and Scotland's Stuart Hogg.
First-choice kicker Halfpenny has landed 27 of his 29 shots at goal so far on tour, while Farrell has missed just one of his 19 attempts. The Lions are eight matches through their 10-match tour, with only the second and third tests remaining. A win in Melbourne on Saturday will secure their first series win in 16 years.
"We are lucky to have the kickers we have," Jenkins said. "They are the best of the best. All have come on at times and done their jobs. We've had the occasional miss, but that's normal.
"Leigh gets nervous now and again, gets on top of himself and needs to stand back. But for a lad of his age, he's done fantastically well already and is maturing all the time."