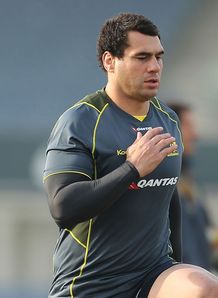 Wallabies flanker George Smith has revealed that he is fully recovered from his knee injury and ready to face the British and Irish Lions.
Smith, who was recalled to Australia's squad ahead of Saturday's second Test in Melbourne, is set to have his readiness for a Test return assessed by the Wallabies' coaching and medical staff but he is confident that he has made a full recovery.
His coach at the Brumbies, Jake White, said recently Smith was unlikely to recover in time for this weekend's Test but the 32-year-old insisted he's fit to play.
"I'm ready to go," he said.
"There's no confusion about my fitness or my knee injury or what not because it's not existent any more, in my mind.
"And mentally I definitely feel refreshed.
"Coming off a Japanese Top League season and then into the Super Rugby championship, the five weeks off has definitely been a blessing in disguise.
"It's allowed me to concentrate on areas that I was lacking, whether it was my fitness or niggling injuries I had (previously)."
The 110-Test veteran's recall shows that he could be in Wallabies coach Robbie Deans' matchday squad for the second Test, possibly as a replacement.
Smith could make history by becoming the first man in the modern era to play against the Lions on different tours.
As a 20-year-old he played a major role in helping the Wallabies come from behind to claim a 2-1 series win over the tourists in 2001.
"My determination and passion for the Wallabies hasn't changed," he added.
"There's a huge job for the Wallabies to do this weekend and whatever involvement I have, whether it be on the field or off the field, I'm happy to contribute."
Smith said he was as anxious as ever watching the first Test and felt Australia were unlucky to lose.
"I thought the way the Wallabies played was fantastic and I thought they were the better team on the night," he said.
"It's heart-breaking to lose that match after coming so close, but I've seen the resolve of the players since I've come here and I'm very excited about this weekend."