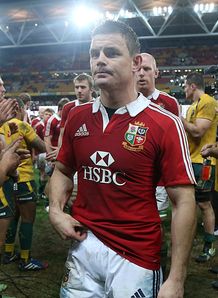 British and Irish Lions centre Brian O'Driscoll expressed his frustation over referee Chris Pollock's interpretation at the breakdown.
O'Driscoll was twice penalised early in the first half, with Australia fly-half James O'Connor missing both subsequent shots at goal.
"There's big frustration with that," said O'Driscoll.
"I was talking out on the pitch and in the dressing room because certainly I felt I was on the right side of the laws with it. He adjudged it differently and penalised me. Thankfully, James O'Connor missed both kicks.
"We'll have to work on our interpretations and see if we can get that better for next week."
The former Lions captain admitted that despite winning the first Test 23-21 to go 1-0 up in the series, the outcome was a strange feeling given that replacement Kurtley Beale had two opportunities to seal victory for the Wallabies at the death.
"It feels strange. Hearts in the mouth at the end, obviously. We probably should have lost conceding those two penalties there," added O'Driscoll.
"We wouldn't have deserved to lose. It felt like we were better than two points better than that side. We didn't get much luck in the game - deflected kicks seemed to bounce into their arms more often than not but maybe we got our luck at the end.
"I think the important thing was that we didn't play too much of the game in our own territory. We felt fairly in control. The tries we conceded - one was a counter-attack and the second one was maybe a couple of bad decisions.
"At crucial times, we got into the attacking zone and gave up penalties and turned ball over. Every time you get down there, you've got to put points on the board.
"I've been in this situation before. I've said that we need to try and finish it next week because it's a hell of a lot easier to win it in two than it is in three. We have to really knuckle down and look at where we can improve.
"We need to regroup and put in a bigger performance than we did today - hopefully we'll be in the mix then."