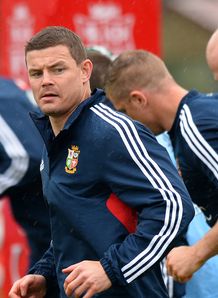 Even after 130-plus matches in the international arena, one Test stands out for British and Irish Lions veteran Brian O'Driscoll in minute detail.
He was 22 when he made his Lions debut against the Wallabies at Brisbane in 2001, embracing the enormity of the occasion and producing the kind of individual performance that ensured his legacy as one of the great rugby centres is as strong among fans in Australia as in his native Ireland.
"It's the personal high," revealed O'Driscoll in Brisbane on Friday.
"It's the only Test match I've won in six.
"It was a great day, but it is time to try and add to it. I don't want to be someone that has had a lot of appearances on Lions tours but not ultimately won a series."
O'Driscoll is one of only three players - along with five-time tourists Willie John McBride and Mike Gibson - to have made four or more Lions tours in the 125-year history of the combined squad.
So if there's anybody in the squad who needs to experience a series win, it's him.
"We've talked about the tour and gelling together and everything," he said, "but at the end of day this tour, if we got on terribly and won, I'd take that above getting on great and having great fun and losing a series."
O'Driscoll has played 125 Tests for Ireland dating back to his debut against Australia in 1999. He has played in four consecutive World Cups and was Lions captain in 2005, when his tour was cut short by injury in New Zealand.
He agreed that winning a series for the Lions was like his holy grail - the combined British and Irish team hasn't won a series since 1997 in South Africa.
"I am not going to be involved in any more World Cups, for me the only other attainable thing that I can achieve in my career is winning a Lions series," he said.
"I dearly want to be part of that for my own sake but also for the Lions' sake going forward.
"We need to win one of these series soon and let's hope it starts tomorrow."
O'Driscoll will be joined in the back-line Saturday by Ireland team-mate Jonathan Sexton at flyhalf - the only other non-Welshman in the back-line.
His centre partner will be Jonathan Davies, his room-mate on the tour.
The 21-year-old George North recovered from injury to take his place on the wing, outside the man who features in his first memories of the Lions.
O'Driscoll scored a try and make some stunning line-breaks in 2001 as the Lions, backed by a massive contingent of traveling fans in red jerseys, dominated the first test of the series in Brisbane.
He was shocked that day that Lions fans outnumbered the local supporters, but he's worked out why in the interim.
"It's so unique that four countries are shouting for you, for a seven-week period," added O'Driscoll.
"It's kind of bizarre, but it's brilliant.
"For them to have love for you as a collective for that period, makes it unique and special.
"You see it in the first-time Lions. They see how big it is. You know that one hit of it isn't enough, if you can get a second or third hit, you crave that."
Of course, blending the four different countries requires a good level of diplomacy, and that's where somebody like O'Driscoll with his experience, his reputation and his dry sense of humor fits in.
"All four countries do things differently," he said. "Obviously in Ireland, we're talkers.
"And so you have to maybe, there'll be a need to tone it down a little. That might get us going, but not work for everyone else. It's about trying to strike a balance."
The 34-year-old now feels like his career has spanned two generations.
"The game is a different existence to 2001," he said.
"The level of detail that we go to in all aspects.
"Logistically, from a training point of view. If I compare and contrast, we had a long season in 2001 and then we still were going out and doing an hour and a half, two-hour pitch sessions sometimes twice a day.
"If did that now, I'd have died two weeks ago.
"You just couldn't survive that, such is the level of intensity of the games."
He's happier to participate in shorter, sharper sessions, regardless of the higher speeds or impact, and is confident it will translate into better performances on the pitch.
"You can't train like Tarzan and play like Jane," he said. "You've got to do it the other way around."