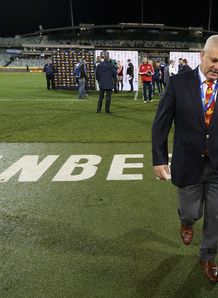 British and Irish Lions head coach Warren Gatland blamed his side's lack of intensity after their 14-12 defeat to the Brumbies.
The Lions finished without a try and at one point in the second half trailed 14-3, before the introduction of several substitutes brought them within in a chance of victory in the final ten minutes.
The defeat is the Lions' first against a provincial side since they were beaten by Northern Transvaal in 1997.
Fielding a back division filled with newcomers and unable to handle the Brumbies physicality up front, Gatland admitted that his team were too flat in the opening 40 minutes.
"There's no excuses, first-half performance wasn't good enough and we got what we deserved," said Gatland.
"It's just disappointing. In fairness to the Brumbies they played well, put us under pressure at the breakdown."
"I was disappointed with the intensity of the first half, I thought we were much better in the second half. We just weren't quite good enough.
"We made a few changes, gave them a bit of a rocket at half-time and I thought we were much better in the second half.
"We seemed a little bit flat out there in the first half, played too much rugby in our own half and we probably needed to play a little bit smarter.
"It was a pretty tight game and there weren't a lot of opportunities.
"Lots of players will be disappointed but we just need to take it on the chin and start focusing on Saturday."