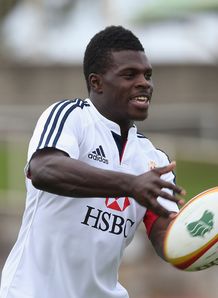 British and Irish Lions wing Shane Williams has revealed that he is a big fan of his new team-mate, and fellow speedster, Christian Wade.
The duo were recently called up to the Lions squad and will line up for the tourists against the Brumbies on Tuesday.
36-year-old Williams retired from Test rugby at the end of 2011 after scoring a Welsh record 58 tries in 87 Tests.
He predicted a bright future for Wade, who made his Test debut for England against Argentina two weeks ago.
"I have paid close attention to Christian and I've spoken to Stephen Jones (former Wales and Wasps fly-half) about him," Williams said.
"He is a very talented player, new on the scene, but already raising eyebrows.
"He is obviously a massive talent, and I enjoy the way he plays. He is a very aggressive runner, obviously very fast, and he enjoys taking defenders on.
"He is my kind of guy, and I am looking forward to playing with him. He is more than capable of showing what he has got tomorrow and being part of this Test series."
22-year-old Wade revealed that he is excited to play with Williams, who is one of his rugby heroes.
"It is a massive thrill to play with Shane," he said.
"I have watched him from a distance and tried to learn from him, and to be able to play alongside him is beyond my dreams.
"I didn't get the chance to play against him, and to be able to play with him is taking it to the next level."