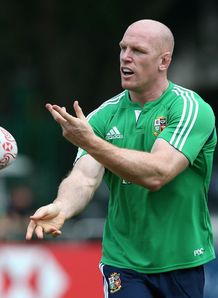 British and Irish Lions lock Paul O'Connell has highlighted the competitiveness for Test places within the squad.
O'Connell, who toured with the Lions in 2005 and 2009, has been in excellent form for the tourists and highlighted the differences with the current tour to Australia to four years ago.
"Every tour has been different," said O'Connell.
"The dressing-room is a lot quieter than on previous tours. There isn't a hell of a lot of talk coming up to games. There is no bravado or talk.
"There is savage competition for places, and guys are very eager to play as well as they can individually.
"I think if you look at the back-line and the way the backs have been playing it's certainly a step up. Forwards-wise, I think we've performed really well as well.
"We've carried well, done well at the breakdown at times and it's as good as any team I've been on, but you don't really know until you get to the Tests.
"I was on the tour in 2005, and to this day it's still probably the toughest rugby experience of my life. I had this big expectation of what a Lions Tour was going to be. Unfortunately, I didn't play well. A lot of us didn't play well, and it was a very tough place to be after the tour.
"2009 was a little different, but at the same time it was a missed opportunity. For a lot of guys it's like the World Cup. It's your shot at forever, that kind of thing."
Despite the Lions being unbeaten thus far on tour, scoring 33 tries in the process, O'Connell insists there will be no underestimation of Australia as the Lions limp into Brisbane with multiple injury concerns.
"We've a very tough three weeks ahead of us," added O'Connell.
"Australia are a really good side, they have a lot of incredibly talented players and the next three weeks will be really tough and will be a lot different to what we've experienced (so far) in terms of intensity and physicality. It will be a big step up for us."