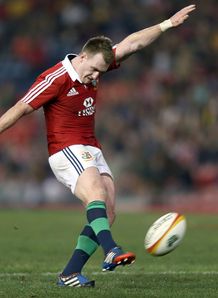 Scottish back Stuart Hogg was happy with his first start at fly-half since 2009 for the British and Irish Lions on Tuesday.
Hogg guided the Lions to a 64-0 victory over a Combined Counties XV side in Newcastle with ease, with the natural full-back admitting there were nerves beforehand.
Coming away with a try and four conversions, Hogg underlined the Lions coaches' faith in him when stating at the squad announcement back in April that the young Scot would work as a third fly-half.
The Lions cruised to victory against a low-quality opposition, but Hogg stated that the side tried too hard to force chances in the second-half.
Their next match on tour, against the Waratahs on Saturday, will provide a much sterner challenge.
"The last time I played at fly-half was in 2009 for my club, Hawick. I enjoyed stepping up there though," said Hogg.
"When you've got the likes of O'Driscoll and Roberts outside you it's going to make your job a lot easier.
"I was a bit nervous coming into this game having not played 10 for a long time but I settled in pretty well and enjoyed it, which is the main thing.
"As the game went on I was getting more and more relaxed and that's exactly what I want it to be like, I want to enjoy my rugby and it showed out there.
"We went out to win and try things. In the first half I thought we were clinical and ruthless, but in the second half we started to force things and the scoreboard wasn't as high.
"We're high in confidence just now, that's four wins from four, we're in a good place and now it's all about building, setting more targets and achieving them."