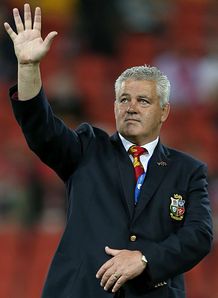 British and Irish Lions head coach Warren Gatland praised his side's courage after a bruising battling victory over the Reds.
A broken bone in Tommy Bowe's hand saw the Ireland winger ruled out of the tour as the Lions fought for the entire 80 minutes against a spiky Reds outfit, who outscores the Lions by two tries to one.
Five penalties and a conversion from Owen Farrell came around a try from Ben Youngs as the Lions also lost Manu Tuilagi to an injury early in the first half.
Having cruised against weakened opposition in the shape of the Barbarians and Western Force, Gatland was delighted to see his side truly challenged and admitted that a couple of try-scoring opportunities, from Farrell and captain Sam Warburton, went begging.
"I'm pretty happy with the performance. We missed a couple of try-scoring opportunities," said Gatland.
"It was a tough game and the weather conditions in the second half didn't help; it became a territory game.
"We showed great courage and that's what the Lions is all about. The Reds threw everything at us in the first 20 but we soaked up the pressure. I'm really proud of that performance.
"We've been training the lads really hard. We've flattened them a little bit, but they kept digging deep when it was required.
"I felt there were a couple of forward passes and a couple of decisions that didn't go our way, but that's part of rugby."