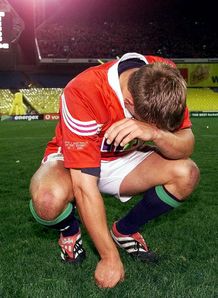 Toulon fly-half Jonny Wilkinson has rated his Lions prospects as "unlikely" after undergoing surgery on a groin issue.
The two-time Lions tourist expressed an interest to linking up with the squad as injury cover should anything happen to Jonathan Sexton and Owen Farrell, after previously ruling himself out of the original squad due to his commitments to Toulon.
Wilkinson led Toulon to a first Heineken Cup title with a 16-15 victory over Clermont in Dublin, but was unable to complete the double as his side were beaten by Castres in the Top 14 Finals last weekend.
With his season over, Wilkinson as previously suggested is someway off 100 percent fitness and now requires two weeks completely rest following his operation.
"It (the operation) puts it quite heavily into a 'less likely' bracket. I've said all along that I just want to be 100 per cent fit and keen to go for it," said Wilkinson to Sky Sports.
"A month ago [when the squad was announced] I was in a different situation where I was fearing that, if the season went as well as it did, I didn't know what sort of condition I would be in.
"It hasn't surprised me I'm now at that point and I'm a long way from 100 per cent. I know from previous experience that if you go on the Lions, you can't be any less than fully fit.
"On the flip side, the idea of the Lions and the possibility of touring has been a huge inspiration for me. It has driven me on, but it has been a long time since I've been able to function like I did when I was younger.
"I have been very positive about it but at the moment I'm looking at getting my body right, and I have to be realistic and say it's looking unlikely.
"Basically, what I'm saying is that I've had the procedure, and I'm looking after my body. I'm really keen to have discussions [with Gatland], but the last thing I want is for anyone to get injured anyway. It's a great squad and I want them to do well.
"The Lions need guys who are at the top of the top, and I need to ask the question as to whether I'm able to give that - as does anyone else that might get the chance to go out to Australia.
"Right now, I'm not involved in the squad, and while it would be fabulous if there is any discussion to be had, I do see it as unlikely."
Wilkinson also admitted an interest in moving into coaching following his retirement at the end of next season, praising the influence of former Newcastle coach Steve Black and England kicking coach Dave Alred on his career, whilst also expressing his love for Toulon.
"Toulon will be my last club for sure, because I believe in building. Playing and coaching is about getting to know people, and to be able to do that you need to spend time. I love the place and what it's all about. I love the supporters, the team, the area, the coaches, everything about it.
"It will be my last club, and in terms of playing on, I have the same thoughts that I have towards the Lions. It's very unlikely that I see myself going on beyond this year.
"With what I've been through in my career, and the influences of [former Newcastle coach and mentor] Steve Black and [kicking coach] Dave Alred, the individual side of skills coaching and mental approach - the emotion side of it - those angles inspire me enormously. I have a huge enthusiasm for that kind of coaching.
"I would like to think that everything happens for a reason and all the stuff I've done, in terms of work off the field and my preparation for games, is something I can research further and hopefully benefit other people and help them take their game where they want to take it."