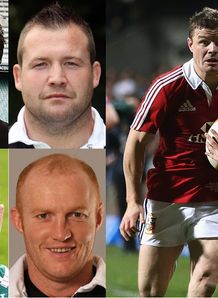 With the Lions taking two wins from two starts, and with Warren Gatland's roadshow gaining momentum, this week's Expert Witness looks beyond the results and examines the true form of the squad and Test candidates.
It's a well-held rugby fact that you can't do much more than win the games in front of you. The 2013 British and Irish Lions have already succeeded in doing exactly that, and on the face of it, competition in the squad is in rude health.
Four fixtures stand between the Lions and the First Test match. Already, the squad has shown a couple of dark horses within the youngsters, whilst a couple of established internationals have slipped backwards.
Former Welsh flanker Martyn Williams believes that the competition comes from an inner inertia:
"In both games, we've seen high standards set. It's essential, in Lions terms, to improve upon each performance, to take the team to a higher level each time, and to encourage your successors to elevate the Lions to the next level," said Williams.
"I see that happening on this tour.
"If you asked me who the nailed-on Test starters are, I'd say that there's a couple in the front row, and maybe two more in the backs. Everything else is up for grabs, and that's great for team morale. It keeps people honest and focused to both collective and individual goals.
"Even the skipper is under pressure; Sam's biggest challenge seems to be coming from his own team-mates, and that's an incredibly healthy position to be in!" commented the Welsh centurion.
Martin Corry, a veteran of seven British and Irish Lions Tests agrees.
"We are in real good shape," said Corry.
"We have 37 players that are Test contenders, and virtually all could do a job in any given situation. However, the key now is to find the men who are going to rise even higher above the current level, and becoming extraordinary, rather than just 'very good!
"Mako Vunipola has already started to do that in his own quiet but powerful manner. He is a different physical shape to the player we saw even six months ago! Look at Brian O'Driscoll too, someone whose leadership and understanding I cannot speak too highly of. He's a winner, and a man that is clearly enjoying the tour. As a result, he's holding his hand up at 34 to be the Test outside centre, and is raising the bar in every game
"Being pragmatic for one moment, the first two games have been competitive training runs and nothing more. What is significant is that the Lions have maintained their shape and patterns despite the weaker opposition, and they've shown cohesion in how they want to play. It's very easy to lose shape when you know you're going to win. We need to explore our 'moves', keep true to our tactics, and maintain that pattern and shape.
"The message is execute everything and execute well. Don't be frightened to show your hand to the Wallabies, and practice how you're going to play in the Tests.
"The options we have are very encouraging and I'm looking forward to seeing this side against more testing opponents," explained Corry.
In order to look at Test combinations, the coaches have also shown a welcome tendency to gamble a little. Tuesday's midfield combination of Manu Tuilagi and O'Driscoll, whilst surprising some onlookers, delivered a performance of high quality handling and intelligent offloading.
Irish Lion and Welford Road favourite Geordan Murphy purred in his approval of the selections:
"I'm delighted that Brian, the elder statesman of the squad, has been given every opportunity to shown his skills. He will consider he has unfinished Lions business in Australia and it seems that 'the old man' is determined to enjoy his last series!" commented Murphy.
"I really enjoyed the way he and Manu combined, and with Tuilagi's physical presence and O'Driscoll's support lines. That power at 12 creates holes in the defence, and Drico, a past master of finding the gap, can exploit the spaces better than any one else in rugby.
"Manu showed great intelligence in bringing George North into the 12/13 channel at pace too, and the display of both centres was very encouraging.
"Leigh Halfpenny's boot was also pleasing, but we knew that before the series. Having range like that can be a very useful weapon against Australia, a side that keeps the scoreboard moving, even when living on scraps of possession
"As was mentioned in Expert Witness by Martin Corry, one concern is the lack of another fly-half in the squad. It's certainly true that the man Australia fear most is in Toulon, and, as well as Johnny Sexton played yesterday, both of the tour 10s have to be available for Saturday's game against the Queensland Reds, which is a big physical and mental ask. Although Gatland has said it is 'in his thoughts', I don't buy Stuart Hogg as an option as an outside-half. I doubt if he's played more than a handful of senior games there, which is no preparation for orchestrating a Lions backline!," mused the Tigers' skipper.
"On the downside, I am devastated for Cian Healy, who looked in a lot of pain with his ankle injury and is a passionate lad who I know fairly well. Being forced onto the sidelines, or even to leave a Lions tour, is utterly savage for the player concerned, and we all hope he recovers well."
Former England and Lions hooker, Mark Regan, a seasoned exponent of international scrummaging, agrees where Vunipolo is concerned, but has major concerns about other areas of the British and Irish Lions setpiece:
"Vunipola is a huge unit, isn't he?" chuckled 'Ronnie'.
"His stock is rising with every performance, and reports from inside the camp suggest he's been the most impressive player on tour so far.
"He had a massive all-round game last night and punched some big holes in the Force defence. His scrummaging is solid and improving, but his handling and support lines are outstanding," observed the big Bristolian.
"Conversely, Dan Cole and Rory Best blew real opportunities to force their claims, and they will be disappointed in their personal showings.
"Dan, who was putting in world class performances 12 months ago, looked jaded and slow. His key is mobility and his breakdown work. That was not forthcoming.
"In addition, since the implementation of the new scrum engagement calls, Cole has struggled, and adapted less well than others.
"Looking closely at his issues, it's clear to me that he is far too high on the hit. He is also alongside (level with) his hooker and loosehead, when he needs to be slightly in front of both, and needs to be the first man engaging on the hit. Look at how far his backside was in the air, compared to the Force loosehead. Maybe 30 cms?
"I believe his issues are caused by three main failings; the gap between him and his opponent is too small. Cole is a huge prop, and needs that gap to get into a dynamic power position. He's engaging too closely, which means his first movement HAS to be to place his outside leg backwards, thus totally depowering the hit and defusing any forward momentum. An old trick, illegal but effective, is to measure your height by touching the ground with your outside hand. Dan is so high I don't think he could touch it even if he tried!", laughed 'Ronnie'.
"He and Rory Best were also struggling with their binding. It took them a long time to set up, when it should be a case of grab, bind, hit. Quickly, dynamically and percussively. Yes, it's the first time they've scrummaged together, but Lions tours are about seizing the opportunities you have, and Adam Jones is in a far stronger position to start the tests at the moment. The Lions had two 5m scrums, and were turned over at both. That is not acceptable.
"The Western Force pack, were, with respect, a second string unit. Cole will be upset he failed to absolutely dominate them."
Looking at other areas, Williams agreed with Corry with regards to strength in depth in certain positions. Williams in particular sees the midfield and backrow as areas of very healthy competition:
"The backrow options are immense!" said Williams.
"And what is great is the contrasting styles and options that we're showing; from the classic openside style of Tipuric to the tighter more traditional presence of Toby Falatu.
"Sean O'Brien has been a stand out already. He has the complete backrow skillset, and the only question mark is where he'll start (postionally) rather than if he'll start.
"Jamie Heaslip too showed his value on hard grounds with his pace and rangy running. If you then factor in others' performances, you'll see that Gatland will be forced to select rather than name a test back row. As is the Lions' tradition, each person that takes on the mantle of the previous display, looks to improve upon it, and that's exactly what this talented group of loose forwards have done. Skipper Sam Warburton will be delighted with the competition on one hand, but very worried about his test berth on the other. That's a great position for the team to be in, and incredibly healthy.
"All four centres have had big games too, and again, Gatland will be delighted with the options he has. Any of those men in any combination would make a decent fist of the Test jersey."
With two games gone against moderate opposition, Corry considers Saturday's fixture in Brisbane to be a step up in terms of intensity:
"The first inkling we had of our likely Test team in 2001 was when Graham Henry announced the side for the Queensland Reds game," explained the former Lion.
"Gatland will look to further explore combinations and options in this game and I believe only two or three players are certain of a Test start: Halfpenny at full-back, skipper Sam Warburton who is the tour captain so therefore must start. It is as simple as that and that is the way it should be.
"We now must look at what players are the men who can BEAT Australia, and that's all about combinations. If we need a fourth line-out forward, then Tom Croft will start. If it's thought that a carrier is required, then Sean O'Brien will be that man. There is huge competition, and Test selection will be about form and also the type of game we wish to play.
Wise words from all of our Experts. This weekend sees the most interesting game yet, as the Lions travel to one of Australia's hotbeds of Rugby Union, the sunshine state of Queensland. Expert Witness looks forward to our panel's thoughts as the British and Irish Lions look to build upon a highly promising start to their 2013 tour of Australia.
We look forward to sharing those views next week.
Corry, Williams, Murphy and Regan spoke to James While.