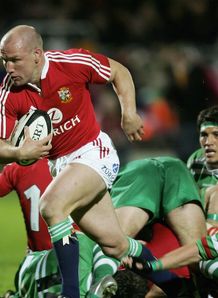 Former England and British and Irish Lions flanker Neil Back has expressed his disappointment at the lack of quality opposition in 2013.
Back, who toured with the Lions three times in 1997, 2001 and 2005, was speaking after the Lions 69-17 victory over the the Western Force in Perth on Wednesday.
The victory came after the Lions also cruised to a win against the Barbarians in Hong Kong last weekend.
Set to face a strong Queensland Reds side in Brisbane on Saturday, Back believes that the level of competition so far has been disappointing and disrespectful towards the heritage of the famous red shirt, as the British and Irish Lions are celebrating their 125th anniversary.
"Warren Gatland is saying all the right things but beneath it he will be disappointed with the level of competition," said Back to talkSPORT.
"The Lions can only play against the teams that are put in front of them, but they scored eight tries against the Barbarians last week and nine tries against the Western Force, the competition just isn't there. It's far too easy for the Lions at the moment.
"It's the 125th anniversary of the British and Irish Lions and it's disrespectful to the shirt. You get the opportunity once every 12 years to play against the British and Irish Lions. It's a huge honour to play for, and against, the Lions, that's just not being shown.
"A third string England team managed to put 40 points past the Barbarians. It's got to be looked at and the strength of opposition has got to be improved."