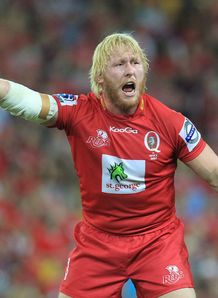 Ten players with Super Rugby experience have been included in the Combined Country 23-man squad to face the British and Irish Lions on June 11.
The team, which comprises of players from New South Wales and Queensland rural regions, includes Reds flanker Beau Robinson and Western Force lock Phoenix Battye.
Coach Cam Blades reveals he had a tough time keeping his squad to 23 players.
"We had such a massive pool of players that fitted the criteria," he commented.
"Out of the 43 we had to figure out who we thought would be the likely starting fifteen and then had to look at what the bench options would be.
"With Super Rugby still active until we play there still could be some more movement in the squad and so we've been very mindful of that.
"We've been negotiating with the Super Rugby Clubs about which players will be available.
"Depending on what changes are required going forward there could be a few tricky decisions still to be made."
Blades admits that the occasion is a once-in-a-lifetime opportunity.
"It's a great opportunity for the guys who are still actively playing in the bush and for those born in the country or have a playing history in the country, whatever playing level they're at," he said.
"We have plenty of guys in the squad at amateur level who will get the once in a Rugby lifetime chance to pit themselves against professionals that are all hardened Rugby players.
"It'll be a massive occasion and a massive challenge.
"It's a good opportunity for them to put their skills on display and see if they can use this game to launch themselves further up the Rugby pathway.
"It's also a very unlikely occasion, it almost certainly won't happen again for all of the players, most will never get the chance to play against a touring Lions side again.
Combined Country Squad to play the Lions: Rikki Abraham (Qld Country), Dale Ah-Wong (Qld Country), Phoenix Battye (Western Force), Jarrad Butler (Queensland Reds), Lewie Catt (NSW Country), Tom Cox (Brumbies), Tim Davidson (Melbourne Rebels), Trent Dyer (Melbourne Rebels), Blake Enever (Queensland Reds), Dylan Evans (NSW Country), Alex Gibbon (Southern Districts, Sydney), Ben Greentree (NSW Country), Haydn Hirsimaki (Qld Country), Tom Kearney (Qld Country), Josh Mann-Rae (Brumbies), Adam McCormack (NSW Country), Tim Metcher (Southern Districts, Sydney), Angus Roberts (Melbourne Rebels), Beau Robinson (Queensland Reds), Tereta- Junior Siakisini (Qld Country), Michael Snowden (Western Force), Richard Stanford (Eastern Suburbs, Sydney), Nathan Trist (Sydney University)