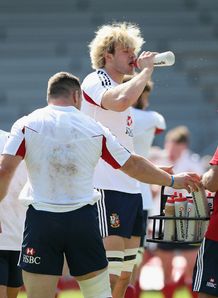 The British and Irish Lions match with the Barbarians in Hong Kong on Saturday will be medically safe, according to a spokesman.
Concerns have been raised in recent days over the intense humidity in Hong Kong that has seen the Lions squad using water fans in training and undergoing extensive rehydration in order to avoid exhaustion.
Saturday's match will see regular drinks intervals after 15 and 30 minutes in each half to ensure that any danger of medical problems are avoided, with a Lions spokesman stating that the match had not been scheduled at the behest of sponsors HSBC.
The Lions also admitted that they had not judged the conditions perfectly before arriving in humid Hong Kong, citing the experience as a "lesson learned" - whilst also praising the excellent medical equipment available to the squad.
"Our doctor, James Robson, will not put any player in jeopardy," the spokesman said to the Daily Telegraph.
"They have had weeks of rain here and all of a sudden the sun has come out and the humidity has gone up. All we can do is prepare for it and the medical team has been phenomenal in regard to the rehydration process.
"HSBC [principal sponsor of the Lions] have not given us a single penny towards this game. Three years ago the Lions board looked at the tour of Australia and they could only offer nine games - three Tests, the five Super provinces and [Queensland] Country, which is going to be by far the weakest game.
"After the last tour Sir Ian McGeechan put down in stone that for a short tour you need at least six matches.
"The sixth match was either going to come from Argentina, USA, Japan or Hong Kong, where there is a strong tradition of sevens, a lot of expats, the Bledisloe Cup has been played here and it breaks up the trip to Australia.
"We probably didn't realise quite what it meant in terms of conditions and heat and that is a lesson learnt. But from a professional athlete preparing, it is going to give them an amazing advantage as opposed to going to altitude.
"We had an amazing monitoring programme in place for hydration and the boys are already feeling the benefits of that three days into the tour. When we then go to a slightly cooler climate, it is going to be a huge benefit for them."