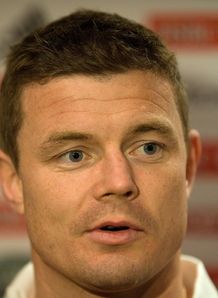 Related links
Also see
Brian O'Driscoll admits that the upcoming British and Irish Lions tour is his last chance to make an impact on one of the game's biggest stages.
The 34-year-old has already stated he has no intention of turning out for Ireland at the 2015 World Cup, leaving the current Lions tour as his final fling in a notable series. The Irishman is all too aware of this, and is confident of going out on a high.
"It's probably the last big thing I want to be involved in," he told The Guardian. "I'm definitely not going to be involved in the next World Cup. So this is my last big moment in rugby."
The trip Down Under will be the centre's fourth outing with the Lions, but he is yet to come out on the right result, losing series first to Australia, then New Zealand and lastly South Africa in 2009. Having gone full circle, O'Driscoll has the utmost faith in the current crop of Lions players as they prepare to do battle with Australia.
"Absolutely [I think we can win]. I absolutely do," he asserted.
"We've got great balance and the competition in the back row, centre, halfback and front row proves our quality. The Australians came out with these quotes about 'slabs of meat'. But they're going to be unpleasantly shocked by the calibre and range of our skills."
While O'Driscoll has a long history with the Lions, he knows that unless he forms part of a winning unit he is unlikely to remembered as any kind of Lions great.
"You've got to win a series to be properly remembered," he explained.
"I've talked to Matt [Dawson] about that dummy over-the-head pass that secured the [first Test] win in South Africa. How many times have people spoken to Scott Gibbs about his big hit on Os Du Randt? These moments are timeless - but they're only timeless because of the victory that followed.
"To be considered a great and a custodian of Lions rugby you have to achieve that success. So here comes another opportunity to join that elite group."