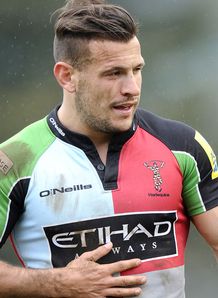 Harlequins and England scrum-half Danny Care has spoken out over his omission from the British and Irish Lions tour to Australia.
Care went through an indifferent Six Nations campaign but has shone for Harlequins in recent weeks, suggesting that he had done enough to make the plane.
However with Ireland's Conor Murray, Wales' Mike Phillips and fellow England scrum-half Ben Youngs all picked ahead of Care, the 26-year old has been forced to accept his poor luck.
"I was gutted. For 24 hours you do ask a few questions because I feel I've played really well. That's one of the hardest things, not getting an explanation," said Care to The Guardian.
"I spoke to [Lions assistant coach] Andy Farrell a few days later and he just said: 'Keep playing the way you're playing.' I can see why they've picked the players they've picked because all of them were starting for their countries in the Six Nations.
"That's hard for me, because I didn't get that chance with England when I thought I was in my best form. I think I've maybe been a bit unlucky in my timing."
"My number one aim was to go on tour with the Lions. Four years ago, after Tomás O'Leary got hurt, they picked Mike Blair to go ahead of me. This time, once again, it seems like I've missed out by one.
"It hurts and it's frustrating because I want to be the best. It was weird. I spoke to my Mum and said: 'I don't think I'm going to be picked.' She was like: 'No, you'll be fine.' It's been hard because, as I say, I've felt I've played the best rugby I've ever played.
"I'm a lot wiser than I was a year and a half ago. I actually wouldn't change what's happened because I think it's made me a better person and a better player. It was a massive wake-up call but I appreciate things in life a lot more now. I do believe everything happens for a reason, so maybe I'm not meant to be out in Australia."