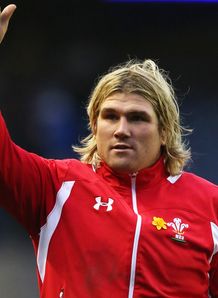 Wales hooker Richard Hibbard admits that he will be looking to bury his demons from last year's nightmare tour of Australia next month.
Hibbard is nearing full fitness after being forced off playing for the Ospreys against Glasgow a few weeks ago, making him a Test contender for the Lions.
A nightmarish 14-minute in the second Test against Australia last year saw Hibbard concede two penalties which Mike Harris converted for the Wallabies to win 25-23.
Hibbard however has bounced back to star for Wales during their 2013 Six Nations campaign.
"On a personal note, this is a good chance to put the demons of last summer behind me," said Hibbard.
"It was a dark time - not being involved in the first Test, then coming in for the second and losing it and then being dropped for the third.
"It was difficult and, Australia being such a faraway place, it wasn't as if you could hop on a train and go home. But I used it as motivation from the start of this season, believing what doesn't kill you makes you stronger.
"When I get criticism, I know how to dust myself down and I know there's not much worse that can happen to me than happened out there.
"You don't get many second chances and this one comes with an excellent group of players, so there's a real opportunity to put what happened last year to bed.
"I'm hoping to be back in training within a couple of weeks. I'm pleased with the way it's going. When the injury happened, I thought: 'I'm cursed'. But we have great physios at the Ospreys and with luck I'll be going at full tilt as soon as I return."
With 15 of the 37-man Lions squad picked from Wales, Hibbard has stated that criticism of Wales' poor record against Australia over the last two years will not have a psychological effect on the Lions.
"There definitely won't be a psychological hurdle for us," added Hibbard.
"Had we played Australia in the Six Nations we would have beaten them. We've beaten ourselves at times, not just in the Australia games, but in other matches last autumn.
"Little things were costing us games, but we've put all those to bed after the Ireland game. Now the challenge is to take them on and beat them."