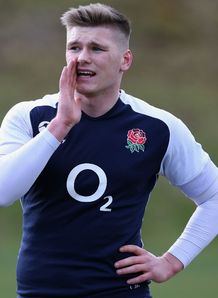 Former Australia wing David Campese has hit out at Owen Farrell, stating that the England fly-half "doesn't cope under pressure."
Farrell has been selected as one of two fly-halves in the Lions squad to tour Australia next month, but Campese believes that the Saracens and England number ten lacks the skill set for the Lions to succeed, much like Jonny Wilkinson.
"Jonny's 33 - all he does is kick penalties and drop goals. You're not going to score tries with him there. It just shows how bad the No 10s are in Europe that he was being talked about," said Campese to the Express.
"They've picked Farrell but he doesn't cope under pressure, as we saw against Wales, and his skill-set isn't great. You need someone smart in that position.
"He is a rugby league guy - and we have too much rugby league influence in our game. It is a reflection of the way rugby is going.
"The coaches are looking for perfect rugby robots who they can programme exactly to do what they want them to do. The skill factor is going out of the game - and that is sad.
"We know it is going to be a very structured series because they will be two very structured teams.
"Some of the games might be close because both coaches are under pressure. But it is going to be a penalty-fest."
Campese was also critical of Australia coach Robbie Deans, describing him as desperate and calling for departing Reds boss Ewen McKenzie to replace him.
"They are breaking their own laws because Robbie Deans is desperate. If they lose the series, hopefully he will go and we can then have Euan McKenzie coaching us," added Campese.
"When Quade Cooper spoke about the environment being toxic last year he got in trouble, but I heard the same from someone else in the squad. There is a problem there.
"We have gone backwards in our back-line skills. It's not the same Australian team as when we were playing.
"Robbie Deans came out last year and said, 'You don't need to score tries to have exciting rugby'. It must be the Kiwi mentality."