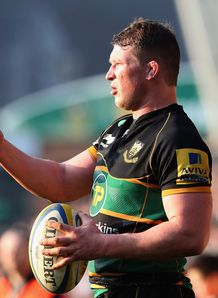 Northampton Saints boss Jim Mallinder has expressed his delight at Dylan Hartley's selection for the Lions tour to Australia.
Hartley was somewhat of a surprise inclusion, with many expecting the England hooker to miss out in favour of Ulster and Ireland's Rory Best.
However, Hartley was named alongside Tom Youngs and Ospreys number two Richard Hibbard in the squad, with Mallinder backing his improvement in recent times.
Mallinder also reserved words of sympathy for Northampton and England flanker Tom Wood, who along with national team-mate Chris Robshaw missed out on selection.
"I'm sure all of the players had it at the back of their mind and knew it was going on, but they're all very professional," said Mallinder to the Northampton Herald and Post.
"It's fantastic for the club and I'm delighted for him. He has worked really hard over the last few years, he has definitely improved as a player and he has been a big player for us.
"I know it was a close-run thing and I know there are a number of hookers who could have gone, but he is delighted he got the nod and we as a club are delighted for him."
"Tom [Wood] must have been very close the way he has been playing. He has been playing really well for us all season and in the internationals I think he was one of England's best players.
"Naturally, he's disappointed he is not there, but he is a very determined lad and he knows what he has got to do. You can't dwell on these setbacks, you have to crack on.
"If they had picked it after the New Zealand win then I'm sure a lot more English would have been on the team, but so it is. I know from speaking to Tom he's quite determined just to keep going and prove he should have been on the trip."
"I'm very humbled," said Hartley.
"It's the pinnacle of rugby, and it hasn't really sunk in yet. I'm just happy that the sleepless nights are over now. I'd put a lot of pressure on myself to try and make it, but it's out of your hands and it's the coaches who are the ones who pick the squad.
"For it to actually happen is quite surreal."