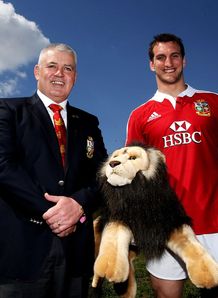 Coach Warren Gatland pointed to Sam Warburton's record with Wales as the reason behind the decision to hand the 24-year-old the Lions captaincy for the 2013 tour to Australia.
Warburton and Gatland have forged a close relationship during their time together in the Welsh camp and it was no surprise that the flanker was given the role ahead of Lions veterans Brian O'Driscoll and Paul O'Connell.
The 15-strong Welsh contingent is the by far the largest in the squad which includes 25 first-time Lions tourists.
"In the last two or three years he's been the most successful captain in the northern hemisphere," said Gatland.
"When we sat down to pick a squad - and it's a fantastically strong squad - we decided that Sam would be one of the names among the starting Test XV.
"I have a huge amount of respect for Sam. He's an absolute professional who leads from the front and I believe he'll do a fantastic job.
"We pretty much finalised the squad last night - the management assembled yesterday afternoon," explained Gatland at Tuesday's press conference.
"There was some robust debate and I know there will be some disappointed players. There were some really healthy discussions in every position.
"We've looked at performances over the last few weeks and players who have come back from injury, but the benchmark was the Six Nations.
"Ideally you'd like to pick everyone but we've had a thorough process and we feel like we have an incredibly talented squad with a lot of depth in a lot of positions.
"All 37 of these players should go to Hong Kong and Australia with the ambition of making the Test side."
Warburton has described his appointment skipper as an "unbelievable honour."
"Warren told me a week ago Sunday. For the last nine or 10 days it's been the hardest secret I've ever had to keep," he said at Tuesday's squad announcement press conference in London.
"You just want to tell people, but I managed to keep it to myself.
"It's unbelievable - an accolade that very few people are able to achieve. To have the opportunity to do this is an unbelievable honour.
"Obviously it's going to be new for me and I'm going to learn along the way. I can't sit here and say I know what's going to happen because I don't.
"There's a good Welsh contingent of leaders who I can rely on and there are other experienced players in the squad who can help me along the way.
"It's an experience I really can't wait to begin. I'm really looking forward to it now and will just keep doing what I do for Wales because I guess that's what Warren has picked me for.
"I'm always the eternal optimistic anyway, so I'll go out there with the intention of winning every match," he added.
"I was chatting to (tour manager) Andy (Irvine) last night and he said that it's not something that's been done before, so that will be a great challenge to set out to the players.
"Everyone who's been picked is naturally a great competitor and will be desperate to give everything to the Lions.
"Nobody on the tour has had a Test series win and I'm sure that's something that we'd all like to achieve."