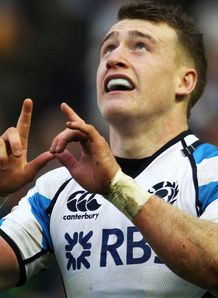 Lions coaches Rob Howley and Neil Jenkins have praised Scotland full-back Stuart Hogg following his selection to tour Australia.
Hogg made his debut in the 2012 Six Nations and has gone to impress for club side Glasgow Warriors over the last two season.
Also capable of playing at outside centre and fly-half, Howley and Jenkins expect Hogg to cover three roles in a similar manner to James Hook on the 2009 Lions tour to South Africa.
"We've been really impressed with Stuart Hogg," said Howley.
"He's got a huge X Factor about him - he can play full-back and 13 and 10 as well. There's something about the magic of the jersey, throwing someone in and I think there's an opportunity for him to cover 10.
"He's an outstanding footballer. He's a huge threat at the back when running at space, but he's also a very good kicker. His preference maybe is to move to fly-half in the long-run, but in terms of his footballing ability he's an outstanding player and I'm looking forward to working with him," said Jenkins.
"He also does a lot of long-range kicking but we also would like to think he can handle his "bread-and-butter" kicks as well. Hooky four years ago played in a lot of games in a lot of positions and I'm sure Hogg is going to do the same. It's a very talented backline from 9-15 and we're very fortunate."
Hogg's club team-mate Sean Maitland was also praised by Jenkins, who highlighted the former Crusaders' winger's speed and pedigree.
"It's very difficult - there's so many talented players on the wing, but in terms of Maitland playing for the Crusaders says an awful lot about how good a player he is," added Jenkins.
"He's impressed for Glasgow and Scotland and it just seems like he's an intelligent rugby player who reads the game very well, makes good decisions defensively and I think he's a good addition to the squad."
Jenkins also reserved praise for Saracens fly-half Owen Farrell, one of two number 10s selected in the squad, highlighting the similarities between Farrell and a younger Jonny Wilkinson.
"We're very lucky in terms of kickers - Owen reminds me an awful lot of Jonny, a constant perfectionist and always out there kicking," added Jenkins.
"He's a great kid and I'm looking forward to working with Owen and Jonathan Sexton. It's something different for me, something new, but we're lucky to have the kickers that we've got in the squad.
The Lion defence coach Andy Farrell admitted that the previous day had been nerve-wracking not just for himself as a selector, but also as a father to Owen Farrell.
"The last 24 hours have been hectic. I feel very fortunate that I know what the rest of the families are going through - we focus on the player but it's a proud moment for mothers and fathers as well," said Farrell.
The England defence coach also added that getting a strong defensive system in place would not be difficult, but would need to be done quickly to make sure the Lions were ready to face the Wallabies.
"It's not that hard to get a system in place," added Farrell.
"It's going to be vital against Australia, we know what an attacking threat they are with world-class players that cause damage to defences, but it's one of the reasons we'll be successful in Australia if our defence is good.
"If you score 23-24 points in a Test match you stand a good chance of winning, so hopefully we can keep them down less than that.
"All four countries defend differently, so it's about getting everyone on the same page quickly and confident about becoming an outstanding defensive side."
by Ben Coles
@bencoles_