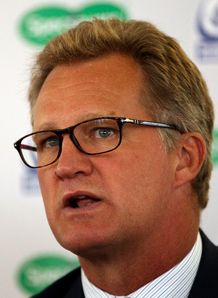 Former Wallaby fly-half Michael Lynagh believes Paul O'Connell should skipper this year's Lions but has predicted that Sam Warburton will get the job.
British and Irish Lions coach Warren Gatland will announce his squad for the June tour Down Under in London on Tuesday, with Wales flank Warburton the hot favourite to be handed the captaincy.
But, Lynagh, who who played in all three Tests for the Wallabies in their 2-1 series defeat to Finlay Calder's 1989 Lions, believes 2009 skipper O'Connell is the man for the job.
"I guess the favourite is Warburton, but for me it has to be Paul O'Connell," said Lynagh, speaking at Thursday's launch of Specsavers' sponsorship of Lions tour match officials.
"He's done it before, he's a big guy, an inspirational bloke, fresh because he hasn't played much this season and is as fit as he's ever been.
"From a political point of view you have Scottish, Welsh and English represented in the management and no Irish. Appointing O'Connell would balance things up."
Lynagh believes that Gatland should choose a 'tour captain', who would not necessarily be guaranteed his place in the Test starting XV.
"I'd go down that route because it takes the pressure off who's going to be a certainty in the team," said the World Cup winner.
"If he's not playing well, do you drop the captain? If you pick a tour captain then he has to perform during the opening three weeks of the tour to get in the Test team. That would be interesting."
Lynagh added that he expects veteran Australian openside George Smith to be recalled and pointed to physical dominance as the Lions' best recipe to get the better of the free-running Wallabies.
He also reckons controversial youngsters Quade Cooper, Kurtley Beale and James O'Connor should be included in the Australian starting side.
"Cooper's still paying the price a little bit for his misdemeanours last year and if it was me, then I'd put him there but I'd make sure there was someone inside him that would look after him in the central position," said Lynagh.
"Kurtley Beale's the incumbent at the moment; I'm led to believe he is just about to come back and is in pretty shape.
"Apparently Robbie Deans has been stand up paddle boarding with him every morning in Sydney, talking to him and he is in pretty good way. I think he will be a big part of the Australian tour. Where they play O'Connor, Beale and Cooper does not really matter as they are all very talented players. What I think is important is that they are in the team somewhere because they're the sort of people that can turn a game or a series.
"Cooper hasn't proved that he's too good to drop over the last couple of years, in fact he's proved that he's a difficult person to have in the team," he added.
"But if he can prove he's overcome that, a bit like a Kevin Pietersen, there's room for him in the team at 10 and he can win games.
"He's more mature now and doesn't take as many risks, but they're the risks that change games and series.
"While guys like him, Beale and O'Connor have issues, they're very hard to defend against.
"All that's important is that they're in the team somewhere because they're the type of players who can turn a game or a series."
Specsavers kicked off a new commitment to professionalism and fair play in sport today, as it launched its sponsorship of match officials at the British and Irish Lions' 125th anniversary tour .