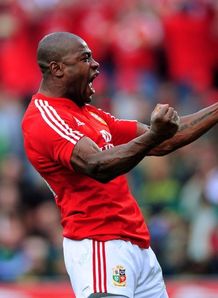 Related links
Teams
The British and Irish Lions notched their first win in eight Tests on Saturday, beating South Africa convincingly 28-9 in Johannesburg.
The tourists had been widely-tipped to fall flat on their faces in the third match, a dead rubber at the end of a long tour. Not a bit of it. All the energy and pride associated with the proud red jersey was on display for the full eighty minutes, while the Boks floundered under the weight of changes and occasional lack of experience at key moments.
But South Africa will not garner any sympathy. They took to the fields with white armbands emblazoned with 'Justice 4', a puerile protest at the two-week ban handed out to the Bakkies Botha. It was an absolutely ludicrous idea, which smacked of Peter de Villiers' nonsensical thinking and deserves full censure from the IRB, who must surely examine this brazen flouting of their authority and take some form of action.
The stats also tell a little tale. The Lions have outscored their hosts by seven tries to five, and by 74 points to 63 over the three games. The key stat is obviously the 2-1 series defeat, but small wonder that the tourists did a lap of honour at the end. The Lions brand is alive and strong and whatever the result, credit has to be lavished upon the touring party for the way they have gone about their business.
The Lions set their stall out to up the pace of the game early on, eschewing kicks for touch for measured up and unders or the mesmerising counter-attack talents of Rob Kearney. It worked a charm. Riki Flutey and Shane Williams got ball in the danger zones as a result and rather than the blunt hammer of the first two Tests, the Lions wielded a honed sword in attack. Martyn Williams in particular, was pure class, aided by his team-mates' deft handling skills.
They were in fine fettle in the set-pieces too. At the first scrum both Phil Vickery and Andy Sheridan annihilated their opposite numbers, forcing a penalty. Stephen Jones missed with his first, but succeeded minutes later after a penalty conceded for not releasing the tackled player - the Boks' fourth penalty to zero from the Lions.
Those points were donated back at the restart, with Shane Williams slicing the clearance kick and the Boks forcing a penalty from the resulting line-out and subsequent phases.
In defence, the tourists tightened up significantly, not so much in technique but with some indomitable spirit. Flutey put in a monstrous hit on Wynand Olivier, while Joe Worsley's backtrack to grad Odwa Ndungane by the ankles was near-miraculous.
The Boks looked like a team with ten changes at times, especially in defence. Heinrich Brüssow, mentioned by Ieuan Evans before the game as a possible player of the series, was nowhere to be seen. Martyn Williams was everywhere - at times the gulf in positioning ability and game-reading was that of tutor and tutee. Brüssow lashed out at Williams after 63 minutes as his frustration boiled over; he was not the only Bok to have a go as they faced an ignominious defeat in a pugnacious final twenty minutes.
There was not the same accuracy at the rucks and mauls from the men in green, especially with the ball in hand. As a result, the Lions forced all sorts of turnovers, two of which yielded tries.
The first one was imbued with a whiff of controversy, with South Africa justly complaining that Simon Shaw had run in front of Jamie Heaslip as the Irish number eight broke the line on the blindside.
Neither Stuart Dickinson nor Vinny Munro picked it up though, and Heaslip drew Zane Kirchner masterfully before popping inside to Shane Williams for the opening score under the posts.
A bizarre missed conversion followed, as the ball fell off the tee during Jones' run-up and he was unable to pick it up and drop goal it in time - and was there just a sniff of a lash-out from Brüssow's boot as he smothered Jones?
8-3 seemed precarious, but the Lions quickly put that to rights with the try of the series. Flutey's chip bounced kindly, but his catch and flip over his head to Williams was as instinctive as it was scintillating. Williams again had the simplest of run-ins to the posts and this time there was no intervening gust of wind.
In between the two there could have been a third try had anyone chased up Williams' infield kick but it was perhaps the one criticism of the Lions at times.
The Boks got themselves a toe back in the door at the end of the half, controlling the ball better and tempting Simon Shaw to incur the wrath of the crowd with a knee to the upper back of Fourie du Preez. Shaw got ten minutes, but Du Preez did not re-appear after half-time - given the atmosphere around the tams with regard to foul play, a citing will surely follow.
Two more penalties followed the line-out, the second of which Morné Steyn knocked over on half-time to make it 15-6, a deserved lead for the tourists.
The game followed a similar pattern in the second half, although Francois Steyn's introduction sparked a bit of life into the South African attack.
Tommy Bowe made a terrific cover tackle on Ndungane, knocking the ball out of the winger's hands as he neared the corner.
The decisive moment came on 55 minutes. As the Boks searched for the try out wide that would get them back into it, Ugo Monye came in off his wing. It's a defensive move that has cost the Lions four or five tries during this series but this time the Harlequins flyer picked off the floated pass and hared away for an 80m try under the posts.
That sealed the game. The Boks fought briefly and secured three further points from the boot of Steyn, but discipline crumbled under pressure, enabling Jones to put the game out of reach with two quick penalties.
Man of the match: Another magnificent performance from Martyn Williams in his last showing in a Lions jersey.
Moment of the match: Ugo Monye's intercept - with a little juggle and against a three-man overlap to put hearts in mouths - killed it all off.
Villain of the match: Quite a few nasty moments. Simon Shaw will no doubt be censured for his knee to Fourie du Preez's back, while Francois Steyn was fortunate not to catch Mike Phillips with a vicious backhand swing. One apiece there... so a joint award.
The scorers:
For South Africa:
Pens: Steyn 3
For the British & Irish Lions:
Tries: S.Williams 2, Monye
Cons: Jones 2
Pens: Jones 3
Yellow card: Shaw (Lions, 38, knee)
South Africa: 15 Zane Kirchner, 14 Odwa Ndungane, 13 Jaque Fourie, 12 Wynand Olivier, 11 Jongi Nokwe, 10 Morné Steyn, 9 Fourie du Preez, 8 Ryan Kankowski, 7 Juan Smith, 6 Heinrich Brussow, 5 Victor Matfield, 4 Johann Muller, 3 John Smit, 2 Chiliboy Ralepelle, 1 Tendai Mtawarira.
Replacements: 16 Bismarck du Plessis, 17 Guthro Steenkamp, 18 Dean Carstens, 19 Steven Sykes, 20 Pierre Spies, 21 Ruan Pienaar, 22 Frans Steyn.
British & Irish Lions: 15 Rob Kearney, 14 Ugo Monye, 13 Tommy Bowe, 12 Riki Flutey, 11 Shane Williams, 10 Stephen Jones, 9 Mike Phillips, 8 Jamie Heaslip, 7 Martyn Williams, 6 Joe Worsley, 5 Paul O'Connell, 4 Simon Shaw, 3 Phil Vickery, 2 Matthew Rees, 1 Andrew Sheridan.
Replacements: 16 Ross Ford, 17 John Hayes, 18 Alun-Wyn Jones, 19 David Wallace, 20 Tom Croft, 21 Harry Ellis, 22 James Hook.
Referee: Stuart Dickinson (Australia)
Assistant referee: Christophe Berdos (France), Vinny Munro (New Zealand)
Television match official: Bryce Lawrence (New Zealand)
Assessor: Tappe Henning
By Danny Stephens in Johannesburg>British & Irish Lions: 15 Rob Kearney, 14 Ugo Monye, 13 Tommy Bowe, 12 Riki Flutey, 11 Shane Williams, 10 Stephen Jones, 9 Mike Phillips, 8 Jamie Heaslip, 7 Martyn Williams, 6 Joe Worsley, 5 Paul O'Connell, 4 Simon Shaw, 3 Phil Vickery, 2 Matthew Rees, 1 Andrew Sheridan.
Replacements: 16 Ross Ford, 17 John Hayes, 18 Alun-Wyn Jones, 19 David Wallace, 20 Tom Croft, 21 Harry Ellis, 22 James Hook.
Referee: Stuart Dickinson (Australia)
Assistant referee: Christophe Berdos (France), Vinny Munro (New Zealand)
Television match official: Bryce Lawrence (New Zealand)
Assessor: Tappe Henning
By Danny Stephens in Johannesburg