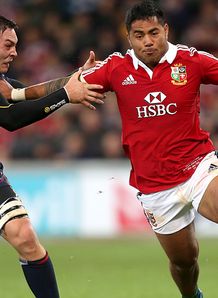 Related links
Teams
Melbourne Rebels captain Gareth Delve was left disappointed after his side failed to score a single point against the Lions.
Six tries from the touring side saw them cruise to a 35-0 victory in the final midweek match of the 2013 tour.
Welshman Delve, who has been with the Rebels since 2010, stated that his side tries to experiment too often but praised their fighting spirit.
"I'm disappointed when I look at that scoreline," said Delve.
"We wanted to try a few different things and really challenge them but we probably didn't get the stability off our set-pieces. A quality team like that ran in a few points on us.
"You can't defend against a team of that quality for the length of time we did and we probably didn't play in the right areas, but the guys went out there and wanted to try a few things but it was always going to be a bit hit or miss."
Delve is set to leave the Rebels at the end of the Super Rugby season, but admitted he was very proud to have part of the club's origins since their foundation three seasons ago.
"I'm proud of being in Australia and being part of this Rebels journey for the last three years," added Delve.
"It's fantastic to see how well the guys are doing in the Lions team but I'm proud of the Rebels for the fight they put up."