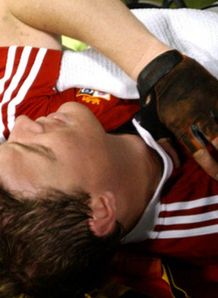 There was cause for optimism amongst the squad and supporters as England were the reigning world champions.
There was a huge English presence in the squad backed by the appointment of Bill Beaumont as manager and Sir Clive Woodward as head coach.
After a 25-25 draw with Argentina at the Millennium Stadium, the Lions squad jetted out to New Zealand where they would play six warm-up matches before facing the All Blacks in the first Test.
The warm-up matches, which were played against teams of high quality, contained five victories and just the one defeat to a New Zealand Maori team.
In the very first warm-up match, though, Lawrence Dallaglio fractured his ankle against Bay of Plenty Steamers and was ruled our for the rest of the series.
The game against Maori was the most difficult part of the Lions' pre-Test schedule as the media in New Zealand billed the match as a "4th Test" due to the quality of the Maori team.
The Lions put on a good show but were eventually defeated 19-13 to give NZ Maori a historic first-ever win against the Lions.
Three more comfortable wins set-up the team for the first Test but the game in Christchurch started in disastrous fashion.
A controversial 'spear tackle' by All Blacks Tana Umaga and Kevin Mealamu on captain Brian O'Driscoll left the Irishman with a dislocated shoulder only two minutes into the match. He was ruled out for the rest of the tour and Martin Corry took over as captain for the rest of the game.
The tourists succumbed to the quality of the New Zealand team and eventually lost 21-3, with the only Lions' points coming from a Jonny Wilkinson penalty.
But the match was overshadowed by the tackle on O'Driscoll which was ruled as legal by the IRB citing commission as Umaga and Mealamu were said to be "clearing the ruck".
The Lions responded by running in 17 tries against Manawatu in a convincing 109-6 victory ahead of the second Test.
All the preparation was wasted though as The Lions lost 48-18 in Wellington. Despite scoring two tries through Simon Easterby and Gareth Thomas, who had taken over as tour captain, they conceded the most points ever in a Lions Test.
History was also made by Dan Carter as the New Zealand fly-half became the highest point scorer in a Test against the Lions with 33 points which included two tries.
A midweek victory over Auckland gave the Lions hope of a consolation victory in the third Test and things started well. Two early penalties from Stephen Jones had given the Lions a 6-0 lead and when Umaga was sin-binned, the Lions began to believe. Three New Zealand tries before the break broke their hearts, though, and two more in the second half condemned the Lions to a 38-19 loss.
It was the first time in 22 years that the Lions had lost all three Tests and the squad had to face up to the fact that England's World Cup heroes were past their best and New Zealand were on a completely different level.{"count":1,"widgets":[{"name":"LIONS IN 2005","id":1,"type":"fact","content":{"mainHeader":"LIONS IN 2005","factType":"paragraphs","factDetails":[{"textArea":"May 23 v Argentina D 25-25
June 4 v Bay of Plenty Steamers W 34-20
June 8 v Taranaki W 36-14
June 11 v NZ Maori L 13-19
June 15 v Wellington Lions W 23-6
June 18 v Otago Razorbacks W 30-19
June 21 v Southland Stags W 26-16
June 25 v New Zealand L 3-21
June 28 v Manawatu Turbos W 109-6
July 2 v New Zealand L 18-48
July 5 v Auckland W 17-13
July 9 v New Zealand L 19-38"}]}}]}