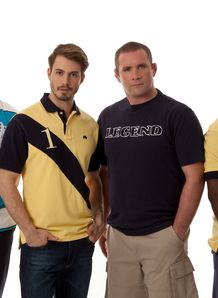 To celebrate this year's British & Irish Lions tour, Raging Bull is giving away £200 worth of clothing to one lucky Planet Rugby reader!
Yes! We're at it again as the giveaways keep flowing.
Established by ex-England Rugby captain Phil Vickery MBE, Raging Bull is a men's lifestyle brand with a strong rugby heritage. Along with the prize of Raging Bull clothing, the winner will also get a signed rugby ball, courtesy of Phil himself.
The original 'raging bull' Phil is an avid fan of the Lions having had the honour of touring twice with the legendary team and can't wait for the first Test.
"I am as excited about watching this series as I was about playing with the Lions - it is a fantastic squad packed with talent and I believe there may be some surprising selections that force themselves into the Test side," he said.
So how do you stand a chance to win? It's easy! All you have to do is answer these two questions:
1. Phil Vickery toured twice as a British & Irish Lion. Name the two countries.
2. Naming the Lions prop whose "stock is rising" in Planet Rugby's gallery of the "Lions in Sydney."
Please email your answers with the subject PLANETRUGBY to competition@ragingbull.co.uk with your name, address, contact number and shirt size.
The competition closes on Saturday, June 22 at midnight GMT.
If you do not wish to receive promotional emails from Raging Bull Ltd in the future then please state this in the email.
To see our full range please visit our website www.ragingbull.co.uk, like us at www.facebook.co.uk/raging.bull.clothing or follow us @RagingBullLtd