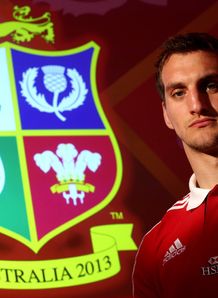 This week we will mostly be concerning ourselves with the Lions captaincy and pivots, and some proposed law changes...
So many talking points in the Lions squad we barely knew where to start. Matt Stevens? No Chris Robshaw or Rory Best? Owen Farrell as one of only two fly-halves?
The biggest question for us revolved around the captaincy though.
The decision to give the captaincy not only to Warren Gatland's preferred domestic leader, but also to a man who had only this year refused leadership as he felt it was affecting his game, a man who is only 24 and who is yet to entirely prove himself as a leader, and at the expense of several of rugby's all-time greats in terms of leadership and talent.
It's a big gamble. You talk about club captaincy, then international captaincy, but the Lions is another level again. It's a unique environment, one held together by goodwill yet one which can quickly disintegrate in its rushed and multi-national nature.
Sam Warburton is a good leader, a top professional and a fine player, but if the pressure does come on after a couple of indifferent results, if the squad does begin to fracture along national lines or find it hard to retain the Lions spirit in the tough moments, is Warburton experienced enough to hold it all together?
In our opinion, that's the key factor. It's not just captaincy experience you need for the Lions role, it's Lions experience. The knowledge of the special glues that make the squad stick together. Warburton is going to face that challenge on his debut; not just with a little experience, but with none at all.
Warren Gatland, who clearly has a terrific bond with Warburton, has made a huge call here. If the tour goes well, all will be gravy. But if the tour goes the way of the Woodward one, Warburton is going to find himself under enormous pressure. Is he strong enough to hold up to that? Does he have the credibility to do so? We think that might be a question that wasn't asked enough.
---
Meanwhile, the choice to take only two fly-halves - and not one of the centres in the squad could possibly be considered fly-half cover, even at a pinch - is indicative of only one thing for us: that one Mr. J. Wilkinson will complete his tour de force with Toulon and then jet off to Australia.
But we are truly mystified as to the inclusion of Owen Farrell. The Six Nations was the measure of form according to Gatland. In which case, we have a fly-half in Jonathan Sexton who is only now rediscovering pre-injury form,and another who singularly failed ever to ignite England's backs with anything beyond a kick.
If ever there was an illustration of Farrell's shortcomings it had to be the butchered overlap in the Heineken Cup semi-final where an accomplished fly-half of the ilk of Carter, Wilkinson or Cooper would have found the pass to be of second nature. Instead, Farrell delivered a wonky, soggy balloon of a pass, which cost his side their last real opportunity of winning.
He kicks well. Very well. He tackles. But he is indisciplined, has a lot of skills to learn, and just does not have the variety of game a complete fly-half should have. The Lions are short in the ten department - until Jonny flies out anyway.
---
Finally, a really weird proposition emanating from down under this week, where the Australian franchises, led by ARU CEO Bill Pulver, are bidding to run a second-team tournament parallel to the Super Rugby franchise matches, but with a bit of a twist.
"In the ideal world I would love two rule changes, and I have to work through this with the IRB," said Pulver to ESPN.
"It would be 25-minute halves, no penalty goals, and five-minute yellow cards for infringements in your own half. The yellow card will be a bit like water polo; the rule I love in water polo is that if you infringe when they are attacking your goal, you are out of the pool until they score. Great rule. Our equivalent would be, in a 25-minute game; an infringing player is off the field for five minutes or until the opposition scores."
Well, ok.... so good luck with even getting that past the IRB. But good luck generally. Australia does need a second tier competition in the mould of New Zealand's ITM Cup or the Currie Cup. And whatever is created has to be more economically viable than the Australian Rugby Championship of three years ago.
Loose Pass compiled by Richard Anderson