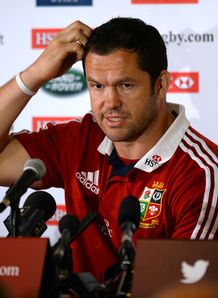 British and Irish Lions assistant coach Andy Farrell insists his side are "still in the race" for a series victory despite a tough loss in Melbourne on Saturday.
The Lions, who won the first Test in Brisbane, fell to the Wallabies in a 16-15 negative a week later to set up a mouth-watering finale in Sydney.
"The reality is that it's 1-1 after two good teams have gone at it hammer and tongs. We're both still in the race," said Farrell in a press conference.
"I'm proud of the way we stuck at it. We were lucky to get away with a win in the first game and in the second game we could have won. After those two games 1-1 is a fair way to look at the series.
"We've come to (training camp) Noosa for a couple of days off and we'll lick our wounds.
"There are a few boys training tomorrow (Monday) and they will go hard. The rest of the squad have a couple of days off and we'll train on Wednesday and Thursday.
"We all realise it's the biggest game of our lives and we'll see what comes of it.
"I wouldn't say Australia are in the driving seat. I'd say they're very pleased - it was a do or die situation for them and they rose to the challenge.
"It was a one-point game that could have gone either way and both teams will be confident about next week."