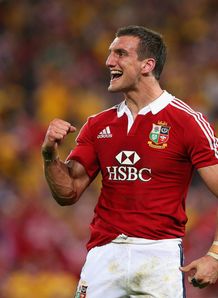 British and Irish Lions captain Sam Warburton wants his side to finish the job this weekend against Australia in Melbourne on Saturday.
Warburton admitted his week had been filled with nervous excitement as the Lions faced up to the enormity of the task ahead of them.
No Lions side has one a Test series since 1997, with Warburton admitting the challenge faced by the 2013 vintage was a daunting one.
Warburton also expects the Wallabies to "come out firing" after their narrow defeat last weekend in Brisbane.
"I've had nervous excitement this week," said Warburton.
"It's quite strange when you wake up every day knowing that this time in five days you could be series winners, then it's four days, three days, two days....
"The game can't come quick enough. There's no complacency thinking we have a week off because there's another opportunity in the third Test.
"If we need the third Test then the momentum will have swung completely. We definitely want to finish it off this weekend and the players are motivated to do that.
"I think this will be the biggest game of my life. Winning a Lions series will be something nobody's achieved since 1997.
"It's knowing what you could achieve, but also that it will take something special to do that."
"Australia will bounce back. They were only a kick away from winning last weekend. They know they have a chance of getting the Test series back.
"Australians being Australians, they are very optimistic and competitive. There's no way they'll be down and out. They'll come out firing. It's all or nothing for them so we can expect a huge performance from them."