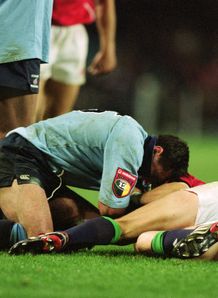 Related links
Teams
Also see
Waratahs boss Michael Cheika believes there will be no repeat of the violence from the 2001 clash with the British and Irish Lions.
The previous fixture between the Waratahs and Lions 12 year ago was marred by an 11-punch attack by Duncan McRae on Ronan O'Gara.
As a result McRae was banned for seven weeks whilst O'Gara required eight stitches to his face.
Cheika has ruled out any further acts of excessive violence, stating that any physicality will come within the parameters of the law.
"I think those days have gone," said Cheika.
"But physicality can occur in lots of ways - rucks, scrums and the contacts have got to be big from our lads.
"We have to be big. We can't hope just to contain them, and we can't hold anything back. If we have that mentality over 80 minutes, we might put a bit of a dent in their tank.
"Anything in red that moves, we'll have a go at it. We certainly won't be going out there to look for a glorious defeat.
"If there is a one per cent chance we can win the game we'll take that one per cent and do what we can with it."
Cheika also rejected talk this week that the Lions were coming into the Test series undercooked, despite taking on a weak Combined Country XV on Tuesday.
"They will be fine. They are the team that is playing games. Australia is the team that isn't playing games," added Cheika.
"I don't think there is any chance of the Lions being underdone. They've just had a full season, lads are being rested and he (Lions head coach Warren Gatland) has got good competition for places.
"All I can say is that what we need to do is try and put some doubt in the Lions minds before the following Saturday and help Australia's cause.
"I am not really sure how we'll do that, because on paper we are no match, but we have to try.
"You will never soften them up because they are hard guys. They are well conditioned. They are hard mentally, too. They've won Grand Slams, they've been in World Cup quarter-finals and semi-finals.
"I was involved with the development of some of these (Lions) players, and that makes me feel proud.
"That experience with Leinster is really helping me with what we are doing here. I learnt a lot about putting back into play some of the values of old school rugby.
"I am proud to have worked with those guys, but I will take the opportunity to cut a few of them down."