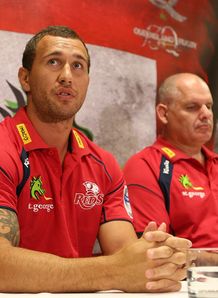 Related links
Teams
Also see
Reds head coach Ewen McKenzie has backed ditched Wallaby pivot Quade Cooper over defensive concerns for next month's Tests against the Lions.
McKenzie has joined Australian pundits in taking issue with boss Robbie Deans for leaving fly-half Cooper out of his initial Wallabies squad.
McKenzie wants to know why Deans is only now demanding Cooper defend in the front line for the Reds to have any hope of taking on the Lions.
"Myself, Robbie and Quade had a discussion about Quade and where he defends at the start of last year and we haven't had any discussions since," McKenzie told Australian Associated Press.
"So now he has one match to defend in the front line to make the Lions squad? It's easy to say that now. What's he been saying for the last 13 weeks? It's not like he hasn't been defending in the front line anyway."
One rugby commentator labelled Cooper's omission a "travesty" while another said the 10 was paying for an outburst last year at Deans and for calling the team's environment "toxic".
Deans has talked up the merits of James O'Connor at fly-half instead of Cooper, who will still get a chance to join the final squad as one of six players to be added on June 10.
"We all know Quade's history in the group and I've selected him on 38 occasions so he's had a lot of faith and support from me. That's not an issue and to suggest otherwise is nonsense," said Deans at the squad announcement.
But that did not wash with The Australian's Wayne Smith, who said that Deans was fully aware of Cooper's flaws when he chose him consistently in the past.
"Presumably on each of those 38 occasions in the past, Deans was fully aware of his suspect defence, his high turnover rate, his occasional flaky moments," Smith wrote.
"Knowing all of these things, he still picked him, 38 times, until Cooper said the word 'toxic'.
"Why did Deans select him 38 times? Because he knew that Cooper, for all his shortcomings, is capable of doing things on a rugby field that are next to impossible to defend against."
The Brisbane Courier Mail's Jim Tucker said Deans had decided to forsake the fly-half who can give him a supreme 10-out-of-10 game against the Lions.
"Good coach. Dud selector. That has often been the label for Deans," Tucker said.
"There are plenty of Reds fans today jeering the biggest travesty dealt a Queensland number 10 since Bob Dwyer left out Paul McLean from the first Test side to face Scotland at Ballymore in 1982."